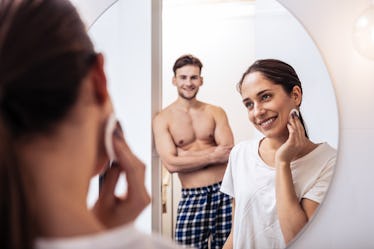 10 Sex Moves To Try In Front Of A Mirror, For The Best View In The House
Shutterstock
You know what they say, seeing is believing. Of course, when it comes to these 10 smoking hot sex moves to do in front of a mirror, you may not believe everything you see. Whether you sit your boo down and please them with your mouth, or turn to your side for a full-profile moment, doing the dirty in front a reflective surface will give you the best view in the house, guaranteed.
Getting it on in front of a mirror can allow you and you and your partner to see your bodies from all sorts of new angles. Of course, the most important part of any sexual encounter is getting clear on consent and boundaries before anything goes down. While breaking your sexual routine can be exciting, it's never OK to pressure someone into doing something they're not totally into. However, if you're on the same page and are both excited to get a new view of the sexy stuff, turning up the heat in front of a mirror can be like snagging a front row seat to your own private peep show.
If you need some inspiration, here are 10 full-frontal view positions to try in front of a mirror.