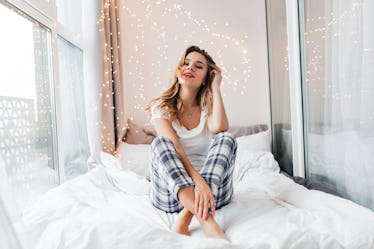 10 Resolutions For The Non-Morning Person, Because The Struggle Can Be So Real
As a non-morning person myself, I understand the struggle is all too real when you and the early hours of the a.m. just don't get along. You've tried to be an early bird who catches the worm, but you've always been more of a bird who ops for hitting the snooze button instead. You'd love to witness the beauty of the sunrise with a cup of coffee in hand, but having to part with your cozy bed on a cold winter morning is tough stuff. However, there are some things you can do — like set certain resolutions for the non-morning person — to ensure that the new year means a new (morning) you.
I love a fresh start, and that's exactly what comes with Jan. 1. The minute you flip over your calendar for the new year is like pushing a reset button. You're ready and motivated to start off with your new goals on the right foot, or in this case, waking up on the right side of the bed.
It may not be as easy as flipping a light switch, but you can definitely set these 10 resolutions to make sure by December 2019, you and the morning are close like the BFFs you always hoped you could be.