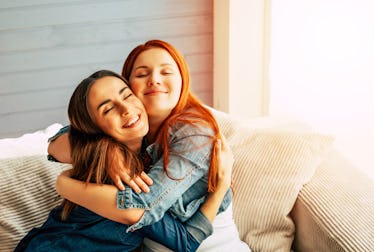 10 Questions You Never Have To Ask Your Roomie, Because She's Your Person
I think most of us can agree that adulting can be difficult at times, but I think the hardest thing of all is finding the perfect roommate. You may have to deal with a few different habits and living styles before finding "the one" who you mesh well with. It takes time finding the perfect roommate, but once you've found her, you're on the road to easy living. In fact, there are even questions you never have to ask your roomie, because she just already knows.
Sure, it may be that you've lived together long enough to understand what the other one is thinking, but I also like to think that BFFs have some kind of magical powers. It's like you have the ability to read each other's minds. For example, if you come home from a bad day, from the look on your face alone, your roomie knows that a girls' night in with cozy blankets and your favorite pizza is just what you need.
So, along with perks like a dishwasher and laundry unit in your apartment, when you sign the lease with your BFF, you have the perk of never having to ask these 10 questions that a best friend like her already knows.