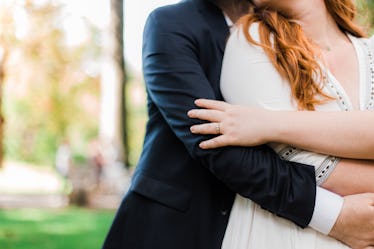 10 Proposal Horror Stories That'll Make You Cringe
If you're anything like me, you've played out your dream engagement in your head a number of times. Your charming beau gets down on their knee and declares their love to you, and then you get thousands of likes on Instagram when you post about it. Not all proposal horror stories are quite like the fairy tales, though — sometimes your perfect partner pops the question in a cringeworthy way. Of course, that doesn't mean the proposal isn't magical or amazing, it just means you now have a hilarious story to share with your friends for years to come.
Have you ever worried that your partner will pop the question when you're just about to get a bloody nose? Or you'll find an engagement ring in an ice cube and then choke on it? Or, worst of all, the person photographing the engagement will be standing on your bad side (OK, this fear might just be mine, but honestly, my left side is way better than my right). You'd be surprised how crazy some true engagement stories can be — they're better than anything we could dream up in our heads.
Read on to hear real engagement ring stories that will make you laugh, cry, and cringe.