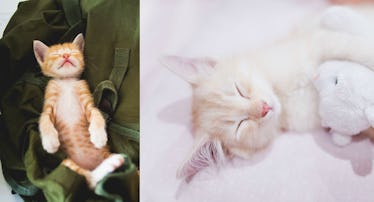 10 Pictures Of Sleeping Cats That Are Relatable AF When You're Feeling Lazy
When I was little, I would tell myself when I grow up, I want to have the life of a cat. Hear me out. Cats get to sleep pretty much all day long, eat whenever, and get love and attention on their time. Sounds like a dream come true, right? As I get older, that dream of having a cat's life has never faded. Instead, it gets greater. After a long work week — and I'm feeling lazy AF — all I want to do is sleep. So, seeing pictures of sleeping cats is so relatable.
Felines are my kindred spirit. I'm sure you can relate. The way they cat nap just about anywhere, at any time of the day, is a skill you have perfected as well. When you look at these 10 pictures of sleeping cats, you want to say, "Same," but instead it's more of a yawn. I just love the way they roll up into tiny fluff balls or spread out with their paws stretched out wide. They truly do not care and are just getting comfy, but it always ends up being the most adorable thing I've ever seen. Honestly, looking at these cats is pawsitively too much to handle right now. I'm on cuteness overload, and I think I deserve a cat nap as well, to recharge myself.