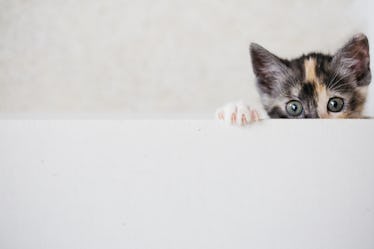 10 Epic Photobombing Cats We Can All Take Some Serious Notes From
Cats are not only good for companionship and furry cuddles, but they also are the ultimate enjoyment. They possess a sassy "IDGAF" attitude that makes them surprisingly endearing and naturally hilarious. If you have a cat of your own, you understand. They sleep all day, wherever they want, even if it's right on your head. And they'll walk wherever they please, even if it is right on your computer's keyboard. They truly do not care about where they go or what they do, which can make for some pretty epic photobombing cat pictures.
Even when they're just going about their lives unaware of what you're doing, they steal the show. We're not complaining. In fact, we love our cats so much that we're pretty sure it's a cat's world and we're just living in it. Our feline friends are a perfect combination of curious and couldn't care less, which is why these 10 photobombing cat pics are downright hilarious. It's like in every picture, the cat is wondering why you would ever take a picture of anything other than them. You're right, cat, and we're sorry. All photos should be cat photos, and we need to take some serious notes from these kittens on how to properly photobomb someone else's picture. Though I will admit, I don't think we'll ever top a kitten-bomb. They're practically purrfect in every way.