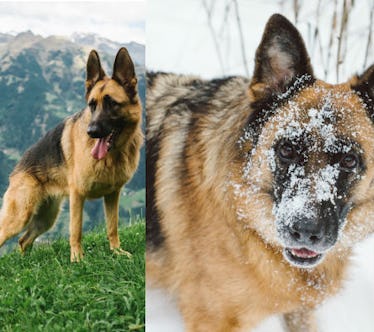 10 Pictures Of German Shepherds Who Would Make Loyal AF Companions
Sure — we know dogs are man's best friend, but what puppy breed is the truest BFF you could ever ask for? Well, I'm sure you could argue for just about any pup you love will your whole heart, because they're all special in their own way. But, there is truly no denying German Shepherds make incredibly loyal companions. German Shepherds are one of the more common police dog breeds — and these partners truly have your back. Even just looking at pictures of German Shepherds can prove that these pups will really be your best friend furever.
Do you want a bestie who will work out with you? A German Shepherd will be totally game for it, running beside you on your morning jog. Are you looking for a BFF who will keep all of your secrets? German Shepherds will keep their barks to themselves. You want a best friend who will take your selfie game to a new level? Just imagine how much cuter your Insta pics will be with a fluffy BFF by your side. There's no denying that German Shepherds make great companions, but these 10 photos will prove they are the most loyal dogs you could ever take home.