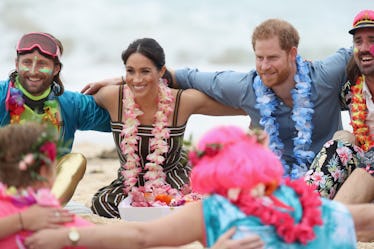 10 Sweet Photos Of Prince Harry & Meghan Markle At Charity Events That'll Melt Your Heart
Chris Jackson/Getty Images Entertainment/Getty Images
From their first public appearance, to their engagement announcement, to their beautiful royal wedding, Prince Harry and Meghan Markle have found more than one way to make our hearts melt. The most recent fuel to the fire that is my obsession with the Duke and Duchess of Sussex are these photos of Prince Harry and Meghan Markle at charity events. I mean, c'mon! They're oh-so in love, and their full-time job is to stand up for the philanthropic causes that are important to them. How much more perfect can these two be!? Seriously.
Along with being a beautiful couple, Harry and Meghan are also a part of something much bigger: the Royal Family. And with that comes a whole lot of responsibility. Doing charity work in some way, shape, or form is one of the most crucial jobs of a Royal Family member. According to their official website, over 3,000 organizations refer to a member of the Royal Family as their patron or president. "Members of the Royal Family have links with hundreds of charities, military associations, professional bodies and public service organisations," their site reads. But in order to be able to dedicate enough time to each charity they serve on, the Royal Family has to limit the amount of organizations they work with. They can't lend their time to every cause, as much as I'm sure they'd like to, but you can bet that the ones they do work with are special to them.
Here are 10 shots of Meghan and Harry doing their duties as the Duke and Duchess of Sussex.