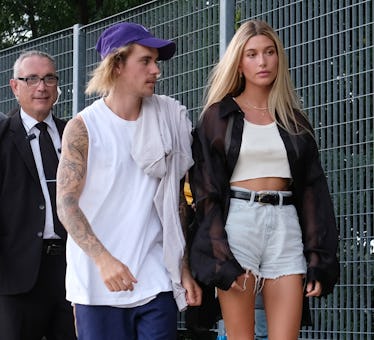 10 Photos Of Justin Bieber & Hailey Baldwin Looking So In Love That You'll Cry Happy Tears
Nicholas Hunt/Getty Images Entertainment/Getty Images
If you feel lost keeping up with Justin Bieber and Hailey Baldwin's whirlwind journey toward wedded bliss, you're not alone. It may be a surprise to some, but despite their speedy marriage, these two have actually been linked together as far back as 2009. Needless to say, a lot has happened since then and while it's far, far too early to know for sure whether or not these two will last, plenty of photos of Justin Bieber and Hailey Baldwin do exist and they look so blissfully in love.
From steamy hot tub lip locks to paparazzi strolls through New York City to a super casual moment boarding a private jet, Bieber and Baldwin's romance looks aspirational. That said, pictures may not tell the full story: Between the many photos of them in tears and a source close to him reportedly telling People that he feels "something is missing from his life," it's hard not to wonder if Bieber and Baldwin are on the rocks.
It's impossible to tell what's really going on between two people, but whatever the truth is, these loving photos of Bieber and Baldwin are incredibly sweet.