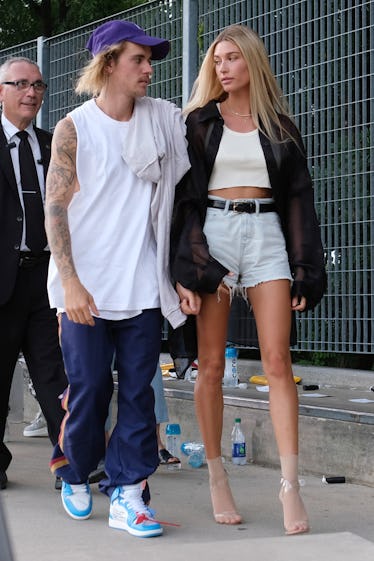 Hailey Baldwin Just Revealed The One Downside Of Dating Justin Bieber
Nicholas Hunt/Getty Images Entertainment/Getty Images
Hailey Baldwin and Justin Bieber are my favorite engaged — er, married? — couple at the moment, which is honestly surprising to even myself. I thought I wouldn't really be a fan of the whole quickie engagement thing with these two, and yet, I find myself rooting for them, especially in the wake of that other lightning quick celeb engagement calling it quits. And now, in a recent interview, Hailey Baldwin gushes about how incredible Bieber is, which of course doesn't necessarily count as news at this point. But it's Hailey Baldwin's comment about the downside of dating Justin Bieber that somehow makes me appreciate these two even more than I initially did. (Who am I?)
In her interview with Harper's Bazaar for their November issue, the 21-year-old model revealed just how amazing Bieber is to her. She told the magazine,
He is incredible. He crushes everything. Every song, every feature. It's crazy to see what he does. I'm always blown away.
If I'm being honest, that's actually pretty damn cute. I'm once again surprised to see myself cheering these two on, but there you have it.
Despite all of the positive, heartwarming things Baldwin had to say about being with Justin Bieber, she said there is something about dating a pop star that is a major downside — the media.
"Over the past year, I've had more attention on me than I've ever had in my life. Even before…" Baldwin said, alluding to her very public romance with Bieber.
According to E! News, to help "deal with the fame surrounding her career and personal life," Baldwin uses activities like church, boxing classes, and hanging around family to help "both her physical and mental health."
Baldwin also hinted about the idea of having kids with Bieber, and also spoke about getting more tattoos. "I want more," she said, adding, "but I'm keeping space for my kids' names, and certain sentimental things, and I don't want to fill all the cute spots before…I get there."
But before we get ahead of ourselves, let's remember that, despite Justin Bieber's dad's confusing caption on a photo he posted to Instagram, Baldwin and Bieber aren't going to be parents (at least, not that we know of yet).
On Monday, Oct. 1, Jeremy Bieber uploaded a photo of himself alongside his son, Justin Bieber, holding his new daughter, Bay Bieber, who he welcomed with his wife Chelsey Bieber on Aug. 16. The photo showed Bieber's dad alongside Justin and his siblings, all looking at the newest addition, with a caption that read, "To be Father #Bieber's":
While many fans commented on the photo, wondering if the caption was a hint that Justin Bieber was going to be a father himself, others speculated that his father's caption was either mistakenly pluralized or just a simple error of words. Elite Daily reached out to both Baldwin and Bieber's teams for comment on the caption, but did not hear back by the time of publication.
Considering we don't even have confirmation as to whether or not they're officially married, I'd say we should just take a step back on all the speculation anyway.
On Sept. 13, Bieber and Baldwin were seen leaving a New York City courthouse, where it was rumored that they got married (though Baldwin denied those rumors in a now-deleted tweet), but it was then said that the couple was just getting their marriage license. Then, TMZ reported that Bieber and Baldwin actually did get married that day, but don't consider their marriage official just yet because they believe that a church ceremony is needed first. Elite Daily reached out to Bieber and Baldwin's teams for comment on this report, but did not hear back by the time of publication.
Well, whatever Justin and Hailey are to each other — girlfriend, boyfriend, husband, wife — we hope that they're happy, and can roll with the punches of living in the public eye together.