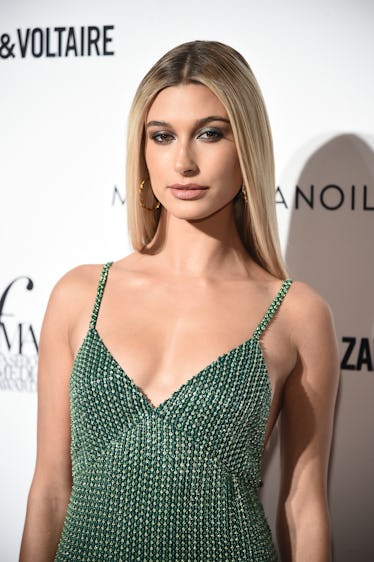 What Hailey Baldwin Said About Getting Engaged To Justin Bieber Will Make You Swoon
Steven Ferdman/Getty Images Entertainment/Getty Images
When news broke that Justin Bieber and Hailey Baldwin had gotten engaged, most of the world was pretty shocked. Apparently, Baldwin was taken by surprise, too. Thanks to a new interview with The Coveteur, fans now have all the details about Hailey Baldwin's reaction to her engagement to Justin Bieber. And it's everything you expected it to be and more.
In her interview with The Coveteur, Baldwin was asked to talk about the most adventurous thing she's done lately. Given that Baldwin has been jet setting all over the place with her husband-to-be, that was obviously top of mind.
"My entire summer has been quite adventurous in life in general," she told The Coveteur. "I've been traveling all over. For me, being adventurous is flying by the seat of my pants, which isn't something I'm normally comfortable with, but I've been doing it for the last few months. Just traveling, and it's so fun to be able to pick up and do things."
After detailing her summer for the publication, she then talked about the one thing on everyone's minds: her engagement.
"Well, I got engaged!" said said of her summer adventures. "I think that's probably the biggest OMG moment of the year for me, of my life. So that's probably top."
I think it was the biggest OMG moment for a lot of people. In all fairness, the news was totally unexpected, especially since Baldwin and Bieber had only rekindled their old romance just a month before. But by all accounts, Bieber and Baldwin are totally committed to each other and that's definitely something to celebrate.
Baldwin's interview with The Coveteur was done as part of her partnership with bareMinerals, which Baldwin was also happy to talk about. Being named a global ambassador for the brand is, according to Baldwin, her biggest project to date.
"This one with bareMinerals is a huge one for me," she told The Coveteur before delving into how her life, mindset, and goals have changed in recent months. "My life has changed so much in the last six months, I'm trying to align myself with things that make sense for my life going forward, so taking it a day at a time. I think it's about finding things that can make a difference. Things that are family-oriented, that have the same kind of beliefs and standards that I do, and things that are fun and cool that I'm passionate about. I don't ever want to go forward in life and do things just to do things. Or do things for money. Or do things that don't actually make me happy. I think it's a big thing, you've got to love what you do."
Not one to shy away from opening herself up to the world, Baldwin also talked a bit about what keeps her humble and grounded. Much of that centers around her faith, which she shares with Bieber.
"Well, I'm Christian, and I go to church, and I was raised in church, so that's been a big part of my life and is still the biggest part of my life every day," the 21-year-old model explained. "I'm very committed to that, and I choose to walk that out every day. In moments of being overwhelmed or anxiety, I pray, and I'm in constant communication with God."
It sounds like Baldwin is in a really good place in her life right now. She seems super happy and really grounded. I'm sure her engagement only adds to her current state of bliss, so that's really awesome.