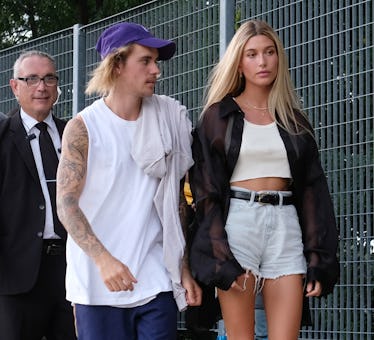 Fans Are Convinced Hailey Baldwin Is Pregnant Because Of Justin Bieber's Dad's Instagram
Nicholas Hunt/Getty Images Entertainment/Getty Images
If you've been living under a rock for the last few months (literally nobody would even blame you), then you might have missed Justin Bieber and Hailey Baldwin's engagement back in July. While the two have had a relatively on-again, off-again relationship, it seems like this time is the real deal, and I, for one, couldn't be happier. They seem to really suit each other, and both have shown just how excited they are to be marrying the other on social media. But now, there's something else going around the ~internet~ about the happy couple, and it's sparking a whole lotta rumors about Justin Bieber and Hailey Baldwin starting a family already. So, is Hailey Baldwin pregnant? Fans seem to think so after a confusing caption Justin Bieber's dad posted to Instagram, but others aren't so convinced. Elite Daily reached out to both Baldwin and Bieber's teams for comment on the caption, but did not hear back by the time of publication.
Let's check out where this speculation train all began: On Monday, Oct. 1, Jeremy Bieber uploaded a photo of himself alongside his son, Justin Bieber, holding his new daughter, Bay Bieber, who he welcomed with his wife Chelsey Bieber on Aug. 16. Jeremy and Justin were also surrounded by Justin's other siblings, all huddled around staring adoringly at little Bay. The caption read, "To be Father #Bieber's," and I honestly can't think of a sweeter family portrait than this one, you guys:
My heart is full, y'all.
But, like all good and pure things, the Instagram photo was immediately taken into observation by fans who were less focused on the picture-perfect family, and more focused on Jeremy's confusing caption, which has a lot of people confused. Considering there was seemingly no reason to make "Beiber" possessive in the caption, fans are disregarding that apostrophe and assuming that "Beibers" was plural, aka, an insinuation that there are multiple dads in the photo.
Naturally, fans took to the comments to question what Jeremy Bieber meant by his caption, and asking whether or not this meant that Hailey Baldwin is pregnant.
"WAIT IS HAILEY PREGNANT?!?!?!" commented one fan on the family portrait. Another user wrote, "Is this you announcing that Justin is going to be a dad?" One fan commented, "TO BE FATHER BIEBERS PLURAL WHAT OH MY GODDDD."
Can we all just back up the gravy truck for one minute, please?
I'm no scientist, but I'm *pretty* sure Jeremy Bieber's caption was simply a grammatical error and he didn't mean to pluralize his last name. And apparently, other fans on Instagram agreed. "Y'all are crazy. Pretty sure it's just supposed to say, 'to be a father'," said one Instagram user. "Maybe he worded it wrong. It could mean he is the father of them all in the picture. Even step father to Chelsey's daughter," another suggested.
While I'm almost positive that this was definitely a false alarm, both Baldwin and Bieber have spoken publicly about wanting children sooner rather than later.
In a March 2017 interview with Remix magazine, Baldwin said that over the course of the next 20 years, she'd like to "have a couple of children and be married and raising a family," adding that "There'll definitely be some kiddos in the picture by then. I want to be a young parent, so I want to be 40 and have teenage kids."
Similarly, Bieber told Women's Wear Daily back in 2011 that he wanted to be a young parent. "Well, by 25 or 26, I want to see myself, like, married or start looking for a family," he told the publication, adding, "I want to be a young dad."
So look, it's not implausible that Hailey and Justin will start a family ASAP, but when that time comes, I don't think the announcement will come in the form of a relative's badly worded Instagram caption.