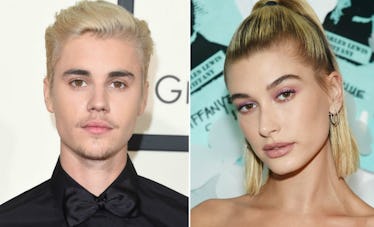 Here's Everything Justin Bieber & Hailey Baldwin Have Said About Starting A Family
JASON MERRITT/GETTY IMAGES ENTERTAINMENT/GETTY IMAGES; JAMIE MCCARTHY/GETTY IMAGES ENTERTAINMENT/GETTY IMAGES
Justin Bieber and Hailey Baldwin have made headlines all summer with their whirlwind romance and subsequent engagement. Now that the two young stars are going to be married, fans have one question in mind: will Justin Bieber and Hailey Baldwin have kids? We'll, they're reportedly talking about it, so it seems like they're pretty set on raising a family sometime in the future. Elite Daily reached out to Bieber and Baldwin's reps for comment on this story, but has not heard back at the time of publication.
Given the curiosity surrounding this couple, I've put together a list of quotes Baldwin and Bieber have said about having kids one day. And once you read what they've had to say, you're definitely going to be rooting for them when they finally do become parents. It seems like kids are a sure-fire bet already.
Anyway, here's what Baldwin and Bieber have been saying about having kids.
Baldwin wants to be a "young parent."
In a March 2017 interview with Remix magazine, Baldwin opened up about what she thinks her future will hold over the next 20 years. And she definitely hit the nail on the head as far as relationships go (she was engaged to Bieber not even a year and a half later). She also talked about what she sees in future as far as kids go.
"I think 20 years is a lot to think about, but by that time I would liked to have a couple of children and be married and raising a family," Baldwin said. "There'll definitely be some kiddos in the picture by then. I want to be a young parent, so I want to be 40 and have teenage kids."
Bieber wants to be a dad by age 25.
Way back when Bieber was just a teenager, he told Women's Wear Daily, that he wanted to become a dad at a pretty young age.
"Well, by 25 or 26, I want to see myself, like, married or start looking for a family," he told the publication in 2011. "I want to be a young dad. I want to be able to have done what I wanted to do — to be successful, to do a movie or whatever."
Bieber is 24 right now, so if he and Baldwin start having kids right away, then he'll have met his goal. And it looks like she will, too.
Bieber plans to raise children who are strong in faith.
It's not a secret that both Baldwin and Bieber are very spiritual people. Going to church is important to them both. And that was never clearer than when Bieber confirmed their engagement on Instagram. He also made it clear that they plan to have a family and that family will be raised with spirituality top of mind.
In his engagement message to Baldwin, Bieber wrote, "I promise to lead our family with honor and integrity letting Jesus through his Holy Spirit guide us in everything we do and every decision we make. My heart is COMPLETELY and FULLY YOURS and I will ALWAYS put you first! You are the love of my life Hailey Baldwin and I wouldn't want to spend it with anybody else."
So, it's safe to say their faith is a huge part of their future together.
Whether they have kids now or further down the line, one thing is really clear about this relationship: Bieber and Baldwin definitely seem to be on the same page about what they want.