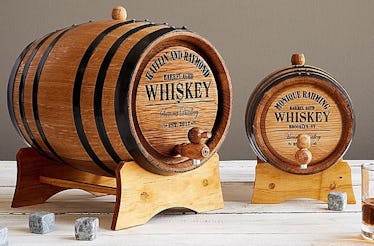 Totally Nail Your 1-Year Anni With Any Of These Personalized Gifts
In today's casual, purposefully ambiguous, way-too-confusing dating climate, making it to the one-year mark of a relationship can feel like a major achievement. And it is! 365 days is a long time to share with someone. To commemorate this huge milestone, putting in some extra effort to surprise your partner with a meaningful gift that demonstrates how well you know them can really knock their socks off. Going with a personalized gift for your one-year anniversary is a great way to ensure your partner feels extra special and loved.
For some people, receiving thoughtful gifts is a vital aspect of feeling loved and appreciated, says Gary Chapman, Ph.D., marriage counselor and author of The Five Love Languages. But even if you're on a tight budget, when it comes to gifting, it's important not to conflate "thoughtful" or "good" with "expensive." The love language is Receiving Gifts, not Receiving Fancy Gifts. Something as simple as a floral bouquet or a sweet knick-knack from a trip you went on can mean a lot to your partner.
There are so many wonderful anniversary gifts at every price point. If you've been mentally pacing back and forth, racking your brain for the perfect anniversary gift, take a deep breath. Here are 10 customizable gifts for every budget that will put a huge smile on your partner's face.