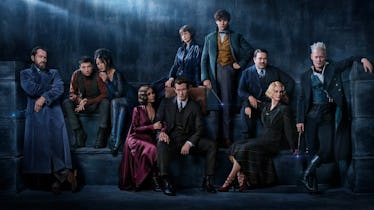 10 New Characters In 'Fantastic Beasts 2' Who All Potterheads Should Get To Know ASAP
Warner Brothers
Fantastic Beasts: The Crimes of Grindelwald is not like the first film. The original movie was a cute little fish-out-of-water adventure where an English wizard accidentally switches cases with a Muggle, and his magical creatures get loose in a society where the wizarding community lives in fear of discovery. The new film is a spy thriller, where sides in the coming war between Grindelwald and Dumbledore have to choose their loyalties. There's an entire set of new characters in Fantastic Beasts 2 to go along with this change of tone as well.
Here's the film's synopsis:
At the end of the first film, the powerful Dark wizard Gellert Grindelwald was captured by MACUSA with the help of Newt Scamander. But, making good on his threat, Grindelwald escaped custody and has set about gathering followers, most unsuspecting of his true agenda: to raise pure-blood wizards up to rule over all non-magical beings. In an effort to thwart Grindelwald's plans, Albus Dumbledore (Law) enlists his former student Newt Scamander, who agrees to help, unaware of the dangers that lie ahead. Lines are drawn as love and loyalty are tested, even among the truest friends and family, in an increasingly divided wizarding world.
Here's a rundown of the ten new characters fans will meet in the new film.