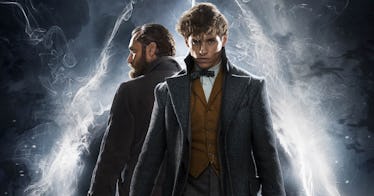 'Fantastic Beasts 2' Will Be "Darker & More Rigorous" & I'm Not Emotionally Prepared
Warner Brothers
The Fantastic Beasts and Where To Find Them series will undergo some serious changes from the time fans last left it in 2016. Then it was an odd little one-off film about Newt Scamander, the writer of the titular book, and some of his adventures in America just before it was published. The series will return a spy vs. spy thriller pitting Dumbledore's agents, including Scamander, against Grindelwald in the street of Paris. But those aren't the only changes. According to star Eddie Redmayne, Fantastic Beasts 2 will be "darker and more rigorous," in terms of adventure.
The new film, entitled Fantastic Beasts: The Crimes of Grindelwald, will introduce yet another new part of the Wizarding World to viewers. The first film showed the repressive world of magic in America, one which never recovered from the Salem Witch Trials, and to this day lived in fear of Christian persecution. The new film will take fans to the French Wizarding world, and let fans see what the world of magic is like with a continental flair.
The synopsis of the film says:
Grindelwald escaped custody and has set about gathering followers, most unsuspecting of his true agenda: to raise pure-blood wizards up to rule over all non-magical beings. In an effort to thwart Grindelwald's plans, Albus Dumbledore (Law) enlists his former student Newt Scamander, who agrees to help, unaware of the dangers that lie ahead.
Speaking to Entertainment Weekly, Eddie Redmayne, who plays Newt Scamander, said the new film is wildly different from the first.
The most riveting aspect is the tonal change. It's darker and more rigorous and weaving in the Potter lore we're much more familiar with. So these characters you met in the first film are now in the wizarding world you understand more thoroughly. When I read [the script] it had these cryptic elements to it and it played like a thriller that made it a page-turner.
He also has a description for what Grindelwald is like, now he's not masquerading as someone else:
I'm enlisted by Dumbledore (Jude Law) to try and track him down and capture him. What's happened is Grindelwald's belief that purebloods should reign over all non-magical beings is a political thing. He's rallying more and more people and it causes divisions across families. He's pretty hypnotic.
Grindelwald's "hypnotic" personality sounds like it's a full 180 from the younger version of Dumbledore played by Jude Law. If Redmayne sounds like he might admire Grindelwald a little, Law says Dumbledore actually admires Scamander quite a lot:
I think he admires in Newt this sense of moral code that he will always do the right thing because he can't do anything but the right thing. I think he likes that Newt finds beauty in beasts because I think occasionally Dumbledore feels like a beast. And there's a master and mentee kind of relationship. And Newt isn't afraid to say when he thinks Dumbledore is wrong, it's not servitude.
Fantastic Beasts: The Crimes of Grindelwald opens in theaters Nov. 16, 2018.