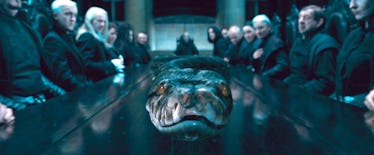 This 'Fantastic Beasts' Theory Connects To Voldemort In A Major Way & We're SCREAMING
Warner Brothers
The Fantastic Beasts: The Curse of Grindelwald trailer arrived this week, promising a brand new look at Dumbledore, played by Jude Law, as well as a return to Hogwarts, 1920s style. But that wasn't the only Harry Potter connection fans think they saw among the hints of what's to come when Newt Scamander and friends head to France. Among the new characters being introduced, some fans thought they spotted an old friend, or an old enemy, depending on your point of view. This Fantastic Beasts Nagini theory is right in line with the sort of Easter Egg that J.K. Rowling would totally throw in. So let's investigate.
When Newt Scamander (Eddie Redmayne) heads to France, he's on a covert mission. Dumbledore has charged him with tracking down Grindelwald (Johnny Depp), who has escaped custody from the Magical Congress of The United States of America. But Grindelwald isn't the only one who sailed across the pond. Tina Goldstein (Katherine Waterson), her sister Queenie (Alison Sudol), and their muggle pal Jacob (Dan Fogler) have all come to Paris as well. Also among the Americans in Paris? Credence Barebone (Ezra Miller), and he has a new friend hanging out with him on the rooftops.
Check out the 1:06 mark in the trailer.
The woman standing on the roof watching Credence pour out the darkness inside him is actress Claudia Kim. Her character doesn't have a name yet, but when the main poster for the film arrived back in November, her character was revealed to be a "Maledictus."
What is a Maledictus? According to the Harry Potter Wiki:
A Maledictus was an individual whose blood was cursed, eventually leading to them turning into a beast.
So what does this have to do with Harry Potter? For years, fans have been speculating that there was something about Nagini, Voldemort's snake, that wasn't all animal; Voldemort's ability to make his pet a horcrux, for example. Plus Nagini just seemed super intelligent, as well as far more malevolent than your average snake. There was something about her that fans new wasn't adding up.
Now they think the answer is in front of us: Nagini is a maledictus. Specifically, Nagini is the maledictus form that Claudia Kim's character will eventually take.
Why are fans so sure that Kim's character might become a snake? Check out the circus poster on the left behind the bubble lady at the Wizarding Circus:
Note it's a picture of a lady tangled up in a snake. Underneath the first part of the poster is obscured, but we can make out the letters "DICTUS." As in "maledictus."
This might also explain why there's a circus to begin with. If Credence and his lady friend are traveling with/hiding out in it, that gives us a reason to attend.
Here's a full shot of the image on the poster:
So does this mean that Nagini was somehow mixed up with Grindelwald years before she found Tom Riddle/Voldemort? It could explain why she became so attracted to Voldemort upon meeting him and attached herself to his side. Grindelwald's fall will come in 1945, the same year that Riddle graduates from Hogwarts. It is unknown if Voldemort had Nagini prior to his fall in 1981, or if they met in Albania after. If Nagini found him as early as the late 1940s after Grindelwald's fall, she might have seen someone who could rise to take his place.
Either way, there's clearly more to Credence's new friend than meets the eye. Whether she's destined to follow two Dark Lords remains to be seen.
Fantastic Beasts: The Crimes of Grindelwald arrives in theaters on Nov. 16, 2018.