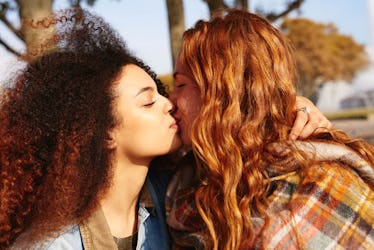 10 Best Love Songs Of 2018 That Gave You Butterflies All Year Long
As a Libra, I might as well have "hopeless romantic" tattooed over my heart. I've always been the kind of person who's reached first for books about 19th-century matchmakers, forbidden love on pirate ships, or supernatural situationships doomed from the start. For me, love songs are the best. They're romance novels tucked into 3-minute-and-46-second nuggets. And 2018 had a bunch of excellent ones. Whether you're three years into your relationship, swiping the nights away on Tinder, or figuring out if you should DTR, there's probably a song for you in this round-up of the best love songs of 2018.
This year came through with romance, in all its forms. You had best friends and newcomers delivering songs about flirtationships — mainly set in the club or parties where guests are slinking around in Gucci. There were the sonic equivalent of "u up?" texts. Odes to self-love mingled with less-than-stellar Saturday nights. Songs about what could be mixed in with songs about all that could have been. Some were rooted in cold hard reality and some were polished up with a little bit of magic.
Coming from pop, R&B, alt-rock, country and the cinematic world, here are 10 songs that are sure to give you butterflies.