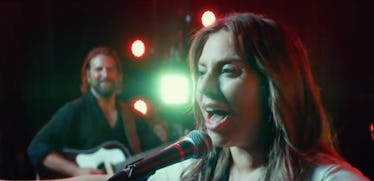 Here's Everything Lady Gaga Fans Should Know About 'A Star Is Born'
YouTube
The story of A Star Is Born has been a part of the cinematic landscape for over 80 years at this point, but now it's getting new life courtesy of Bradley Cooper and Lady Gaga. The stunning trailer for the upcoming movie was just released on Wednesday, June 6, leading viewers unfamiliar with the source material to ask: Is A Star Is Born based on a true story? Lady Gaga had her own dramatic rise to fame, but the movie isn't a biopic. It's a classic Hollywood tale that's seen numerous remakes since the first version hit theaters back in 1937.
Bradley Cooper's directorial debut features Lady Gaga as leading lady and untapped singing-slash-acting talent Ally. He plays country crooner Jackson Maine, who helps her reach her star potential while they develop a romantic and working relationship that is plagued by his personal demons.
The original 1937 A Star Is Born starred Janet Gaynor as an aspiring actress and Fredric March as the movie star in the sunset of his career who thrusts her in the spotlight. Although the true inspiration for the script hasn't been confirmed, speculation that it's based on the relationship of Barbara Stanwyck and Frank Fay has circulated.
A Star Is Born was revived for a second time in 1954 when the legendary Judy Garland took on the "star" role alongside James Mason. The musical became a critically acclaimed success, earning six Academy Award nominations.
Twenty-two years later in 1976, Barbra Streisand's version was released. The celebrated entertainer portrayed a rising singer-songwriter who falls for a rock'n'roller portrayed by Kris Kristofferson. As the re-told story goes, their careers end up going in different directions.
According to The Hollywood Reporter, Barbra has screened portions of Copper's 2018 version. The verdict? "It's very, very good," she revealed.
If anyone's approval matters, it's got to be Barbra's, right?
Even though A Star Is Born has seen its fair share of remakes, the 2018 interpretation has been a long time coming. In 2002, Jennifer Lopez and Will Smith were eyed for the leading roles and Joel Schumacher was attached to direct. In 2012, Tom Cruise was linked to the project with Clint Eastwood in the director's chair. Beyoncé was set to star, until Lady Gaga ultimately replaced her.
"She said right from the beginning that this is gonna be a barter. 'I'm gonna rely on you to get a performance that's honest out of me' — cause she's never done a film before — 'and I'm gonna make sure that you turn into a musician. Because we're going to sing everything live,'" Bradley Cooper explained of Gaga's hopes for her big screen introduction.
Cooper trusted Gaga's instincts, so don't expect any lip-syncing or pre-recorded tracks here. 2018's A Star Is Born features live singing all the way.
Gaga, or real name Stefani Germanotta as she's credited in the film, is stepping into a role that's belonged to some of the most iconic performers the industry has ever seen. How does her characterization distinguish itself?
"I was also very interested in the character of Ally being a bit different than the other versions. She's not an ingénue; she's not this innocent person," Cooper revealed.
"I hope the tone is authentic, more than anything else, that it has darkness, laughter, and humor, and is reflective of life. It's celebratory, wish fulfillment, and heartbreaking," he added, describing how the film tonally departs from its predecessors.
Lady Gaga's acting resume might not include much at the moment, although she did earn a Golden Globe for American Horror Story in 2016. Her director already calls her A Star Is Born performance a "revelation."
A Star Is Born hits theaters October 5, 2018.