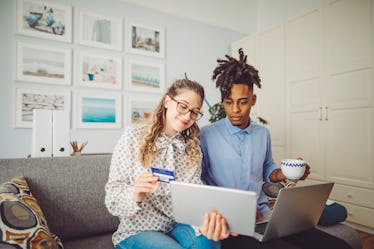 These Last-Minute Father's Day Gifts Will Seriously Rock Your Dad's World
Eva-Katalin/E+/Getty Images
Are you scrambling to come up with the perfect Father's Day present for your dad or the dad figure in your life? That's OK. Many of us are in the same position, scouring the web for cookbooks, bluetooth speakers, hiking backpacks, and last-minute Father's Day 2020 gift ideas that'll arrive in the nick of time. On the same note, we're looking for new and exciting ways to spend the holiday with our dads, who deserve to be celebrated every day of the year. We're scheduling video chats with our siblings and prepping fun games to play, all in hopes that our day ones feel so special and loved.
In other words, you're in good company, and you can feel confident that you'll track down the perfect gift, despite being in a bit of a time crunch. You may need to run to the store (with your face mask on and your hand sanitizer in tow, of course) or spend time with your computer and credit card after work. You may need to select the "rush" option when ordering something online, or get a little crafty to make your gift feel personal. If you follow the right steps, your dad will have something sweet, useful, funny, or fashionable in his hands this weekend.
Here are 15 products you can order that you may or may not have been aware of before. Just do yourself a favor and head to checkout ASAP so your present can hopefully arrive in time.