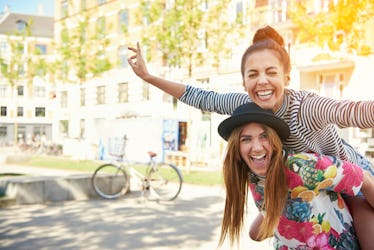 10 Hilarious Fails You & Your Sister Have Definitely Experienced Together
Sisters go through so much together. You have your ups, your downs, and even your most epic fails. Luckily for those minor (and hilarious) missteps, your sister is the number one person you'd want to experience them with. She is your best friend and number one confidant, so any embarrassing moment you know will be kept safe with her. But let's be honest: the hilarious fails you and you sister have experienced together have turned into some of your favorite memories.
As much as I'd like to try to be without fail, I have definitely slipped up from time to time. Whether it's wearing the same outfit, texting the wrong person, or getting caught by the parentals, you and your sis have likely gone through every epic fail in the book. Though, it could be worse. Thankfully, you're #blessed to have your sister by your side to laugh it all off with. Instead of your face turning red from embarrassment, it's from laughing so hard you're on the brink of crying.
Looking back on it now, these 10 hilarious fails all turned into great moments I was able to share with my sister. Even though they are fails, you wouldn't change them for the world. (Well, maybe just a little bit.)