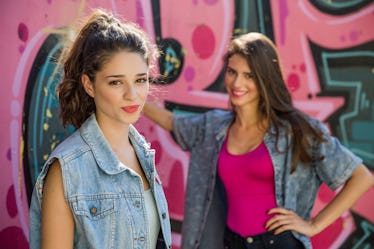 20 Clever Captions For Pics With Your Sis, Because You're Probably Up To No Good
You can't deny how well you and your sister just click. That's your main chick right there, and if it were up to you, you'd make taking pics with her a full-time job. She always seems to capture your best angles, huh? For those epic photos that portray how tight your friendship really is, clever captions for sisters will add a splash of wittiness to your post.
Everything's a joke between you guys, and you are living your best carefree life when she's by your side. She's might not be in the room down the hall from you anymore, but in her presence, you always feel like you're home sweet home. (Yes, those feels are the real deal.)
Your birthright best friend knows how to keep all of your secrets, help you laugh off your mistakes, and listens to all of your thoughts, dreams, and venting sessions. (Your diary is pretty jealous, to be honest.) You two are seriously tighter than tight, and she sets the standard for what you look for and expect in a forever friend.
This might be a pic of you two trying to give each other bunny ears. Or hey, maybe you caught her laughing so hard you just had to snap a picture of it. For whatever not-at-all-serious moment you have with your sis, pair it with one of these 20 captions, so your followers can chuckle, too.
1. "A little sister time is good for the soul." — Unknown
2. "My better half... as in you better not mess with her." — Unknown
3. "When sisters stand shoulder to shoulder, who has a chance against us?" — Unknown
4. "The only person who is allowed to get on my nerves and get away with it." — Unknown
5. "My sister is one of the best gifts my parents could have given me." — Unknown
6. "I smile because you're my sister. I laugh because there's nothing you can do about it." — Unknown
7. "Back off. I have a sister and I am not afraid to use her."—Unknown
8. "Sisters don't need words. We've perfected the art of silent jokes." — Unknown
9. "Sorry for what I said when my sister wasn't around." — Unknown
10. "I'll always do the time for my partner in crime." — Unknown
11. "Sisters — the ones you only get mad at for a short period of time because you have stuff to tell them." — Unknown
12. "A sister is your first friend, and your best friend for life." — Unknown
13. "How do people make it through life without a sister?" — Unknown
14. "Don't blame me. My sister probably made me do it." — Unknown
15. "Having a sister is like having a best friend you can't get rid of." — Amy Li
16. "What's the point of awesome news if you don't have a sister to share it with?" — Unknown
17. "Sisters before misters." — Unknown
18. "When Mom and Dad don't understand, a sister always will." — Unknown
19. "You're pretty much my most favorite of all time in the history of ever." — Unknown
20. "When I say I won't tell anyone, my sister doesn't count." — Unknown
With your sister, there's never really a dull moment. Things always seem to be so picture-perfect, so snap away and caption it up.