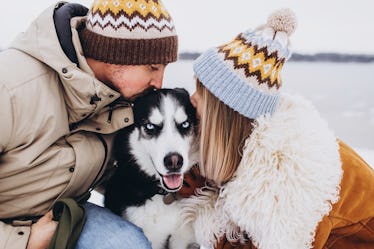 10 Gifts From Your Pet To Your SO That'll Make Everyone Say, "Aww"
Shutterstock
The holidays are here, and every member of your family is feeling merry and bright. Your partner might be getting into the spirit of things by baking snowman-shaped cookies on the weekends, and your sweet pet may be sporting a headband with reindeer antlers. There are even gifts from your pet to your SO under the tree that'll make everyone say, "Aww!"
These are the gifts with tags that read, "To the best owner" or "With love from Peanut," and instantly make your SO smile and laugh. They're usually wrapped in paper that's covered in paw prints or totally decked out with treats. (The human kind, of course.) On the merriest day of the year, they're the first ones to be opened because everyone is curious to see what's inside.
Will your pup have gifted a pack of festive socks, or your cat have found the best deal on a grow-your-own succulent kit for your SO? That's for your love to find out while you sip hot chocolate and wait for their amazing reaction. Nearby, your pet will be anxiously wagging their tail or meowing as the paper tears and the present is revealed.
Here are 10 gifts your pet could give to your partner that'll definitely make them light up and say, "That's adorable."