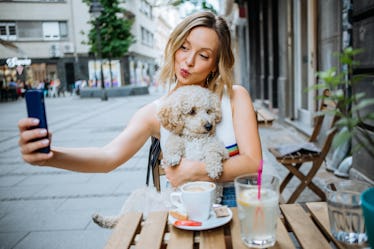 Where To Brunch With Your Pup In NYC When You Want The Cutest Pics
Shutterstock
Do you know what makes waffles, bacon, and mimosas even better? Going to the best brunch places to bring dogs in NYC (which are dog-friendly based on each venue's particular rules) and taking pics with your fur-ever friend in between every tasty bite. Imagine what those mornings would be like: hopping on the subway on a bright, sunny day, wandering to a fun eatery that's been on your bucket list, and smelling the welcoming aroma of home fries.
Lucky for you, there's already a paw-fect furry friend in your life who would probably love to accompany you on your breakfast adventures and sit next to you while you peruse the menu. They might give you an encouraging bark while you order a flight of juice, and when your avocado toast arrives, they may happily wag their tail and nudge you with a paw as if to say, "Look! It's here!"
In that moment, you'll want to pull out your camera and document your dog being a good boy or girl, making friends with the pups nearby, or trying to steal some of your scrambled eggs when you're in the middle of a conversation. Here are the six brunch places in the city for scoring those pics, that are all the woof right now.
This article was originally published on