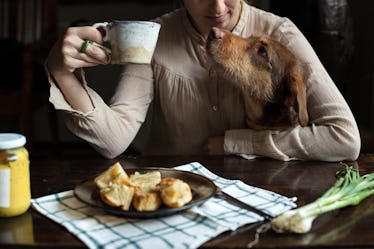 8 Pet-Friendly Restaurants In NYC, Because Your Fur Baby Deserves A Treat
One of the hardest things in your morning routine, other than remembering to grab your wallet while also trying not to be late because you can't find your other shoe, is saying goodbye to your pup. Their little eyes staring up at you, with a little wag of their tail, and you can just tell that they're hoping to go with you. You have to pat their head and be on your way, otherwise you'll never be on time. But you don't always have to leave your dog at home. There are tons of places to take your pup when you're not heading to work, and one place you may not always think of is a restaurant. There are a good amount of pet-friendly restaurants in NYC, and you're bound to find one you and your fur baby both adore.
Again, seeing that tiny face as you shut your door is extremely difficult, so why do it more than you have to? Walks are great and so are dog parks, but restaurants and other shops that allow you and your pet are amazing because then you both get to enjoy a fun plan outside of the house. These places will not only give you more quality time with your doggo, but they'll feed your hungry belly as well.