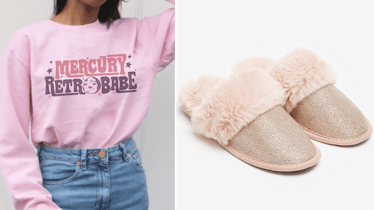 10 Perfect Gifts For The Friend Who Likes To Keep It Cozy, Because The Snuggle's Real
I don't know about you, but my number one priority in life is comfort. Give me a warm blanket, oversized sweater, and mug of hot cocoa any day of the week, and I'm in a state of bliss. With the weather getting colder and colder, the need for coziness is all too real. If you have a BFF who prioritizes comfort as well, you may have a few girls' nights in on the books, complete with holiday movies and eggnog. When it comes time to exchange presents, you'll want to be prepared with gifts for the friend who likes to be cozy.
Let's be honest: A cozy queen can never have too many fuzzy pullovers, sweatpants, and sweet scented candles. She loves staying in on a Friday night, and is a pro at creating the coziest setup on the couch for Netflix marathons.
Naturally, your cozy BFF has her fave oversized sweater, and you're looking to give her something she'll love just as much this holiday season. Though, with so many options out there, you're overwhelmed by the ideas swirling in your head. No need to fret. Pull up a chair, relax, and check out these 10 cozy gifts that I — a cozy queen myself — have put together for some inspiration. The snuggle is real, and I hope you both have a real cozy Christmas.