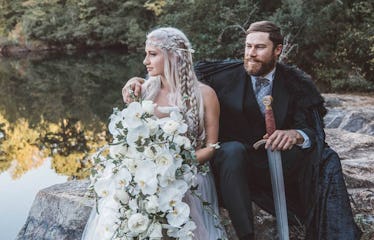 10 'Game Of Thrones'-Inspired Wedding Photos You'll Want To Khalee-See RN
At this point, it's no secret that Game of Thrones fans everywhere are still coming to terms with the fact that the award-winning show is over. Fortunately, enthusiasts are constantly finding new ways to keep the beloved characters alive in their hearts. Some devotees even paid tribute to the show by incorporating elements of the series into their weddings, and the results are absolutely magical. These Game of Thrones-inspired wedding photos are almost too good to be true, and make it clear that even though the story's finished, the connection it fostered with fans is so real.
When it comes to planning a themed wedding, figuring out how to weave in the right amount of inspired elements isn't always easy. While some might envision all GOT everything, others may prefer a more subtle approach. Either way, there's something undeniably whimsical about the ways these creative couples were able to share their love for GOT on their special day. Not only are the details gorgeous, but the overall styling makes for some seriously enchanting energy. So, if tying the knot at Winterfell is on your list of to-do's, here are some Game of Thrones-worthy wedding moments that will take your breath away.