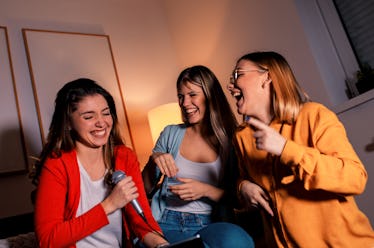 The Good, The Bad, & The Ugly Thoughts Millennials Have About Karaoke Night
Karaoke is always a favorite plan amongst your friend group for Friday night fun. There really is nothing better than renting out a private room just for your crew, or going to a bar that has karaoke where you can sing and dance all night long. You definitely have your go-to karaoke jams, just like everyone else. They can be a hit or miss depending on the mood of your group or the crowd, and that's just one of the funny things about karaoke that every millennial can relate to.
I'm not much of a singer, but I know what songs to pick for karaoke that'll get the room hyped up and singing along in no time. There are some friends who are the pop stars of the group, and can belt out anything like they're performing for the Grammys. Just like there are songs that will get everyone up on the dance floor, and there are songs that'll kind of crush the mood. So when it comes to karaoke, there are hilariously good and downright cringeworthy moments your crew can relate to. Those are the moments you and your friends cherish forever. If you're a karaoke lover, you know these 10 things to be too real every time you go out.