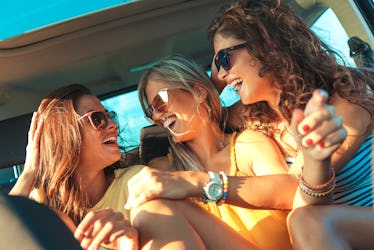 10 Fun Day Dates To Keep The Squad Tight When You're Deep Into Adulting
Let's be honest: The adulting game isn't always easy. Don't get me wrong — you're crushing juggling a busy work schedule, keeping your apartment fresh, staying on top of chores, paying your bills, and still making time to hang out with your friends. Though, you really wish you could do more of the latter. You love your squad to the moon and back, and you don't want your work schedule to get in the way of that, so you're looking for more fun day date ideas for friends.
After getting your friends' schedules together, you may have realized the best time to make plans is on the weekend during the day. Before you got deep into adulting, your go-to might have been hitting up the bars until the early morning, or staying up all night long watching rom-coms over pizza. Now, you're exhausted from a long week of meetings, chores, and other commitments, that your body's ready to catch some serious Z's a little earlier.
A day date it is, and these 10 hangout ideas are just as fun as your previous adventures. Some might even be beneficial for the working girl who's looking to turn her friend hang into something totally productive. All you know is that squad comes first, even when you're adulting.