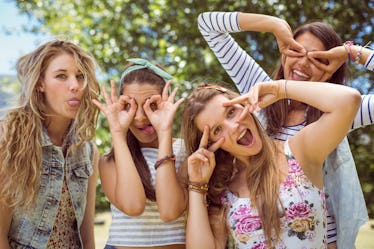 8 Telltale Signs Your Group Is In It For The Long Haul Through Thick & Thin
If you live by the motto, "Squad comes first," there's no denying that you love your friends more than the world. Whenever you have any scoop to dish, you text your group chat to let them know before anyone else. Your weekends are spent chilling or going on spontaneous adventures with them. And I can guarantee you, if you check your Instagram right now, it's pic after pic of your favorite people on your feed. You love your friends, which is why you may be wondering how to know if your group is in it for the long run.
First of all, the fact that you're thinking about forever is already a positive sign. You want to make sure that the "forever" in your BFF pledge is as true as it gets. You know every friend group is all about living it up, but you also know there's so much more to it than that if you're willing to last.
If you're looking for the signs, look for no further than these eight indicators that your crew is all in. If your group is checking off every box, then you can sit back and relax knowing that you've got everything that #squadgoals are made of.