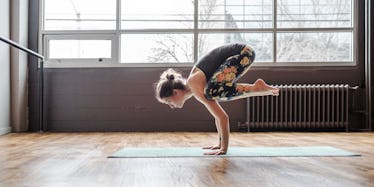 Yoga Is One Of The Best Full-Body Workouts You Can Do & These 10 Poses Prove It
One of the many cool parts about being a yogi is that, when you're in a funk, you always know that just a little bit of time on your mat has the power to completely transform your day. Yogic breath and movement truly cultivate good vibes from head to toe that can linger in your being for hours after the fact. And the full-body yoga poses that make your soul feel all blissed-out also have an added perk of strengthening major muscles in your body, to help you become the most empowered version of yourself.
Now, it's true that there are certain asanas in yoga that focus more heavily on some areas of the body than others, and of course, there will be days when you'll want to include only those poses in your practice, especially if you're focusing on strengthening a specific part of your body. Having said that, though, there are a lot of poses in yoga that target your entire body, and in fact, in most asanas, the emphasis is often on the center of your core, on something called your abdominal lock. In yoga, it is believed that the abdominal lock is where the origin of your inherent power resides, and it plays a huge role in helping you maintain control of the rest of your body's muscles as you move through a physically demanding practice.
When you're looking for a mix of good vibes deep in your soul, and strength in every last muscle in your body, try these 10 yoga poses to help you cultivate and harness that power.