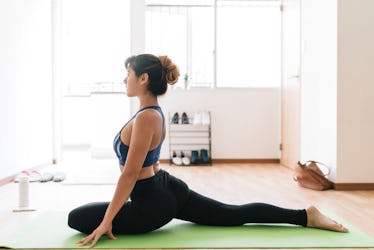 If You Hate Burpees With A Passion, Try These 5 Full-Body Workouts At Home Instead
If there's one thing I'm certain about in this life, it's that burpees suck. For emphasis, I will repeat this: burpees suck, fam. If you enjoy the hellish exercise that is a burpee, I must say, you are the reason I have trust issues. In all seriousness, though, I don't really think there are too many people out there who do thoroughly enjoy burpee-ing on the reg, and fortunately, there are other full-body workouts you can do at home to replace this dreadful exercise that'll still make you feel accomplished (and sweaty) AF by the time you're done.
BTW guys, I'm not the only one who loathes burpees with a fiery passion. Even some personal trainers believe burpees are more or less pointless as a workout. For example, Michael Boyle, a certified functional strength coach, founder of Mike Boyle Strength and Conditioning, and author of the book Functional Training for Sports, told Women's Health that burpees are "an inherently bad exercise," and that "throwing yourself on the ground repeatedly goes from stupid to idiotic. Why would anyone do that?" I'm so with you, Michael.
What's more, celebrity trainer Patrick Murphy, who's worked with stars such as Zac Efron, also believes there are much better, full-body workouts you could be doing besides the burpee. He told Men's Health UK, "Burpees aren't good for the human body. You know what burpees are good for? They originated in the military as a way of dodging bullets. They're good for relocation." So basically, unless you find yourself in combat anytime soon, burpees probably don't need to make an appearance in your workout routine.
Instead, try your hand at any of these five full-body exercises. I won't lie to you: They'll probably still be pretty difficult, but hey, if you ask me, anything is better than a burpee, right?