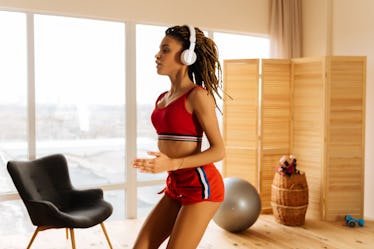 10 Disney Zumba Videos You Can Master At Home For A Magical Workout
Shutterstock
Raise your hand if the second a Disney song comes on, you find yourself singing and moving to the beat. You can't help it if you know every word to every song, and you love Disney so much that it moves you — literally. Channel that passion at home with the Disney Zumba videos in this roundup. You're already in the mood to dance, anyway, so you might as well stream a tutorial and tone those muscles while you're at it.
There are a ton of dance tutorials on YouTube right now. For an at-home workout, it may be difficult to choose the right one, but if you're specifically looking for Zumba routines, start with any of these 10 Disney-themed ones. Begin with a stretch, move on to your fave Disney songs, and wrap up your workout with a cool down.
Also, you don't have to dance by yourself. Get your roomies together for a full apartment workout, or do it solo. Clear some space in the living room, and then set up your computer so everyone can see. All you need to do is press play. It's that simple. You'll probably find yourself belting out the lyrics while you bust those moves, and that's perfectly OK.