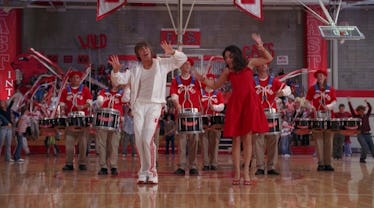 10 Disney Channel Movie Dance Tutorials You & Your Roomie Need To Learn ASAP
Raise your hand if you remember watching every single Disney Channel Original Movie growing up. Now, keep those hands raised if you also remember dancing along to movies like High School Musical and Camp Rock. Well, if you've been catching up on DCOMs from Disney+, you can also get back in the groove with Disney Channel movie dance tutorials on YouTube.
If you find yourself scrolling through TikTok in your free time, you may have recently seen a video from High School Musical star, Ashley Tisdale, dancing to "We're All in This Together." If you saw that, you probably saw Vanessa Hudgens' duet video singing (and drinking a glass of wine) in response. Seeing these two reunite may have hit you right in the nostalgia feels, which means all you want to do is have a movie marathon of the Disney Channel Originals ASAP.
High School Musical was the one that started it all with the musical movie trend on Disney Channel. From there, you got Camp Rock with the Jonas Brothers and Demi Lovato, to the most recent, ZOMBIES 2. Watching these movies may make you want to get up and dance, so if that's the case, here are 10 dance tutorials from different Disney Channel movies to get you going.