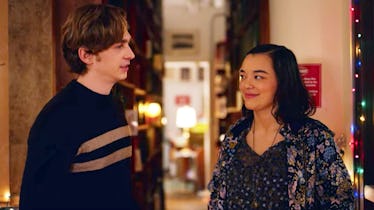 These 'Dash & Lily'-Inspired Dates For The Holidays At Home Are So Cute
Netflix
Netflix has done it again by giving us an adorably festive series that's full of heart and teen romance. Dash & Lily is the perfect holiday watch, especially with the Dash to your Lily or the Lily to your Dash. The eight-episode series is a wonderful blend of holiday movie and romantic comedy that makes it the ideal inspiration for some Dash & Lily at-home date ideas for the holiday season.
While your usual date night at home may consist of Netflix and chilling on the couch with your partner who you've been quarantining with amid the ongoing coronavirus pandemic, it's time to take a cue from those shows you're watching to get creative with your SO. After all, the Centers for Disease Control and Prevention (CDC) notes that anytime you leave the safety of your home and come into contact with anyone who you are not quarantining with, you are putting yourself at risk of contracting the coronavirus. So cozy at-home dates with your quarantine partner is the safe and smart way to go rather than heading out.
Now, be prepared for a few *spoilers* ahead if you haven't finished the series just yet. A cozy night with hot cocoa and watching every episode should be date number one. Once you're done, you can try any of these other 10 Dash & Lily date ideas. Some of them might even bring you some much-needed holiday cheer.
Have your very own notebook dare game like Dash and Lily, or get your DIY on making some holiday sweaters to wear. Sing your favorite Christmas karaoke songs like "River" by Joni Mitchell. You could even have fun in the kitchen making your very own Christmas mochi. Whatever it is that you decide to do, it's sure to be just as cute as a holiday Netflix series.