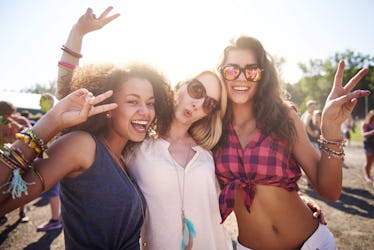 TikTokers Are Making Friendship Bracelets & The Designs Will Make You Nostalgic AF
Shutterstock
Tie-dye isn't the only nostalgic trend that's having a moment RN. People have also been posting friendship bracelet TikTok videos that show the beloved summer camp craft is making a hot comeback. That means it's time to break out your colorful string and beads to make your best friend something super cute they can sport this summer.
Growing up, wearing a friendship bracelet was the cool, stylish way to show off your love for your bestie. TBH, your BFF would have loved any bracelet you gave them, but now that you're an #adult, it's time to tackle a few of the more difficult knots and designs for a truly Insta-worthy gift.
Don't fret if it's been a while since you've tried making a bracelet, either. That's where these eight TikTok videos will come in handy. They'll help refresh your memory and may even inspire you to try new techniques. So pour yourself a refreshing glass of lemonade and stream your fave summer-themed movie. If your best friend is long-distance, put a friendship bracelet in the mail to them along with a sweet letter recounting your fave memories together. Whenever you're rocking your friendship bracelet, you'll feel close to your bestie no matter where they are in the world.