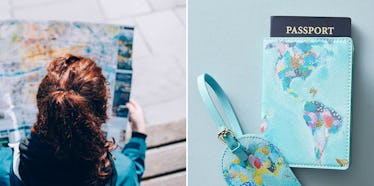 10 Cute Passport Holders That'll Give You So Much Wanderlust This Spring & Summer
Winter is so over, and your wanderlust is honestly ready to embrace the warm weather. Sure, you took that tropical trip to an island in the Caribbean during spring break, but it wasn't nearly enough! You're just really ready to hop on a plane and see a place far, far away from the semester. You have your suitcase basically packed, and your passport's ready to be stamped. Is this what a Sagittarius feels like on any given day? Amongst all of the travel accessories you're bound to buy, you'll want to pick up one of these cute passport holders this spring or summer. After all, you'll probably take a picture once you're sitting in the sky, and want your best travel buddy to be looking better than ever.
We're all living our best lives when we travel. Truth is, we run into a lot of inconveniences, but we tend to call them an adventure instead. Whenever we have to wait in lines at home, we wonder if the world hates us and what we did to deserve such a thing. But, when we're standing in a coffee shop in Italy looking for our cappuccino, there's not a worry that could cross our minds.
You've hopefully booked at least one trip by now to somewhere oh-so-sweet, and have started planning where else you'll take your passport this year. Choosing one of these 10 cute passport holders will make that trip even more picture-perfect.