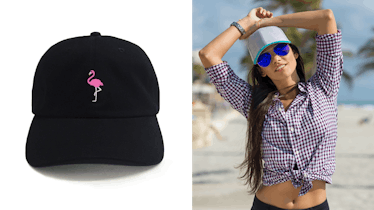 10 Cutest Dad Hats The Beach Babe Needs For Her "Salty Hair, Don't Care" Selfies
The sun's out, and that means it's time to head to the beach with your besties. For the perfect summer outing, you'll need to be equipped with all of the summery essentials. When packing up your beach bag, prepare for the sand, surf, sun, and so many selfies. Cute dad hats can totally cover two of those S's. Not only will you look super fly in your baseball cap, but you'll be snapping a bunch of selfies by the sea. For real — who knew Dad could be so stylish? Don't let it get to his ego, though; it's true that these dad caps are cute AF, and look fab on everyone — not just dads.
When you're basking in the sun on the beach, you need to capture the moment with a pic. You've probably snapped one too many eyes-closed selfies, because the sunshine was a tad too bright to handle. Don't let the sunshine you love ruin your Insta-worthy pics though, because a dad hat is here to bring on the shade.
When getting ready for your next beach trip, consider bringing any of these 10 dad hats along. You'll be living on salt time before you know it.