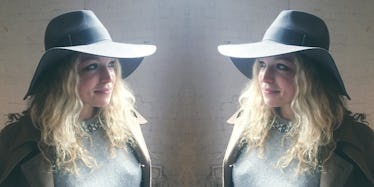 8 Ways To Pull Off A Hat Without Looking Totally Ridiculous
There some people who can wear every kind of hat with style and grace. Alternatively, there are people who look like an ass whenever they put one on.
I'm normally part of the latter category. Hats — especially beanies — make me look like I have a receding hairline and never seem to stay put on my obscenely large head.
However, with my dark roots and constantly cold head, hats have wormed themselves into my wardrobe.
There are a myriad ways to wear them, too. From wide brim hats to slouchy beanies, this is how to wear every hat style without looking like JLo circa "Jenny From The Block."
Play up the boho vibe.
Wide-brim black hats play well with floral maxi skirts and leather jackets. A pair of round frames will make you look like a mixture of Nicole Richie and John Lennon.
We're feeling that vibe.
Baseball caps aren't exclusively for game days.
Add a girly touch to your look with a fall-appropriate leather skirt and chunky knit.
A denim jacket pays homage to the sporty element of the outfit, but the dark wash keeps it chic enough so that you won't look out of place on a last-minute Bumble date.
Use your hat as a color blocking tool.
Your hat should be part of your outfit, not a hastily added side note. A gray hat can offset a camel-colored coat and a bright pair of slouchy pants.
Frankly, we'd wear this look to Thanksgiving dinner when we're trying to hide our food babies.
Slouchy beanies don't have to be an afterthought.
Don't throw on a beanie if you're not planning on incorporating the rest of your look around it. Use it as an opportunity to mix prints.
I took a bright, chunky scarf and leopard print booties and used them as the statement pieces in an otherwise neutral outfit.
A beanie amps up business casual with minimal effort.
No need to look like you just stepped out of a meeting.
A fall-appropriate beanie color -- think rich jewel tones, neutral olives and burgundies -- takes a basic blazer-and-jeans combo from office to  happy hour-ready.
"Upper East Side princess" is a look.
Slaying a first date look doesn't have to mean showing off tits and ass.
A short hemline and slightly longer jacket amp up sex appeal. Similarly, the floppy hat adds an air of mystery.
Berets aren't just for Parisians.
A beret doesn't have to make you look like Jacques Clouseau or Pepé Le Pew.
Pair yours with a form-fitting black midi dress and ankle boots. Add a 90s touch with a bleached denim jacket.
Turbans will always look chic as f*ck.
Turbans are the fanciest hat option.
A slim style in a lightweight fabric like silk will look much chicer than a knit one. Pair with a lightweight gray sweater, an armful of bangles and form-fitting black skinny jeans. Don't forget a pair of stunner shades, either.