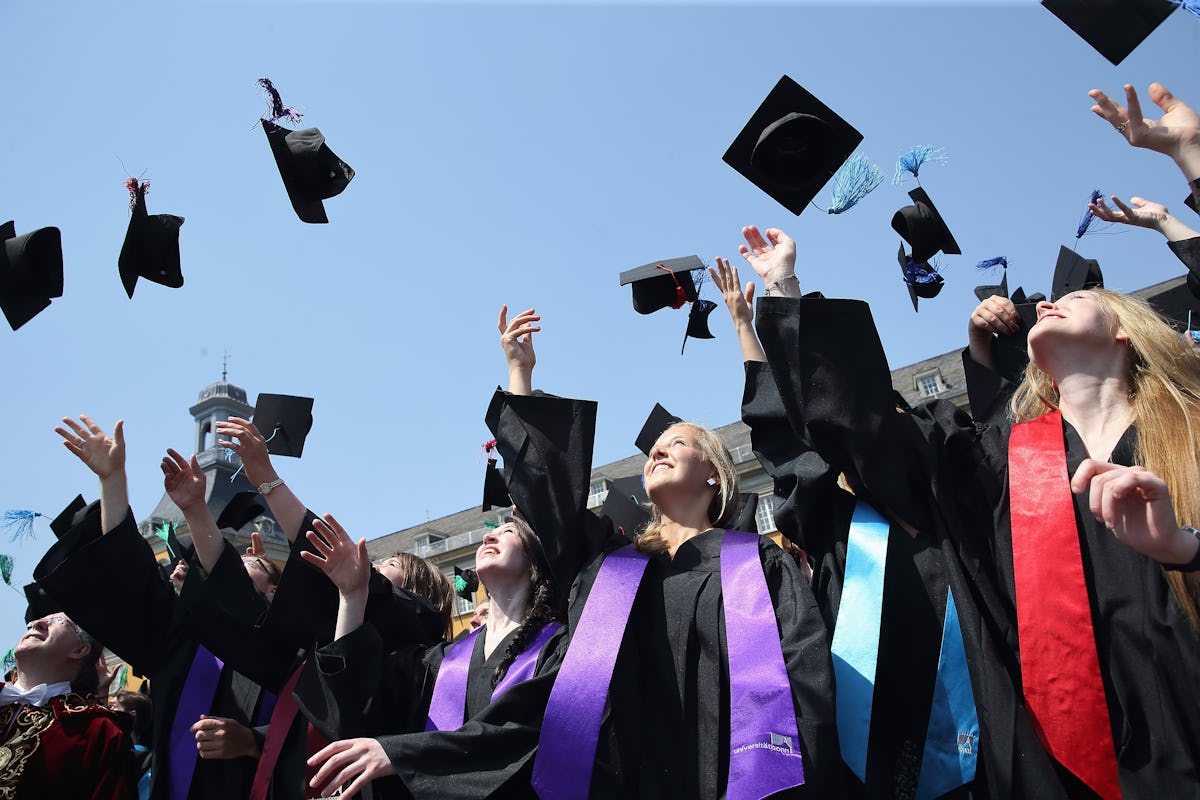 Graduation Dresses That You'll Be Able To Wear Again In The Workspace & Beyond
Andreas Rentz/Getty Images News/Getty Images
Entering post-grad life is both thrilling and daunting at the same time. Will I be able to get a job? Where will I live? Can I somehow make my bandage skirts work appropriate? All valid questions. To help you with that latter inquiry, I've rounded up 10 college graduation dress ideas that will not only make you look killer on the big day, but will also transition to office life seamlessly. Because no, the bandage skirts, bodycon dresses, Greek life shirts, and leggings you've been wearing for the past four years typically don't work in post-grad professional settings all that well (I speak from experience here), and chances are, you won't have a ton of money to blow on a whole new wardrobe.
Once you say goodbye to college for good, you'll soon learn that shopping for versatile pieces is key. Anything you love that can be worn for multiple occasions should snag a spot in your cart, as it'll minimize your sartorial needs. Why not start with your grad dress? Below are my top picks of dresses that I'd wear to an office (albeit a rather casual one), brunch, a birthday, and beyond — it's all about how you choose to accessorize them.
Checks And Balances
This is equal parts professional and fashionable. Its gingham pattern, long hemline, and tee-style top render it appropriate for any workplace, while its ruffled hemline and contrasting patterns are super trendy. I'd style it with heels and a low bun for a networking event, or with white sneakers and statement earrings for a nice brunch with friends.
With A Twist
Another option that could be worn on the regular to the office, this dress boasts a cool knotted waist detail and wrap-style neckline. Its red hot shade still makes it fun for graduation... and whatever after-party you might have planned.
Going Green
This is like a wearable wheatgrass shot thanks to its electric green color, which immediately makes me feel healthier and happier just from looking at it. I love this dress' ruffled collar and asymmetrical hemline. It would look especially good paired with gold earrings.
Garden Party
Because a cool floral boho dress will never go out of style. I especially love this one's balloon sleeves and muted color palette. It could be worn in the fall with tights or in the summer with strappy sandals.
Full Stop
Drool. This dress combines a slew of my favorite things and is versatile AF, to boot. Its flowy silhouette, perfectly jagged hemline, color blocking and polka dot pattern are all so good, and I'd wear it to an interview or a spring wedding in a heartbeat.
Coming Up Roses
The ultimate elegant graduation dress. If you're going for something super springy, light, and ethereal, this option is for you!
Groovy, Baby
Mad Men meets Woodstock in this amazing dress! Its necktie is Joan Holloway to a T, while the flared bell sleeves and rad floral print are totally '70s.
New Millennial
Because millennials are going to save the world, am I right? This pink gingham dress boasts a midi hemline and simple silhouette, but its cute tie sleeves and button-down front add a touch of design sophistication.
Maxed Out
The print on this dress is to die for. It's like something from a beautifully retro dream. Combined with a wrap maxi silhouette, it makes for one killer look that will turn major heads.
Jump To It
Because not everyone wants to wear a dress for graduation... or to work, for that matter. This jumpsuit features a tromp l'oeil checked pattern in black and white and cool wrap design on its bodice. Its cropped wide legs make it the perfect candidate to pair with heeled booties and sandals alike.