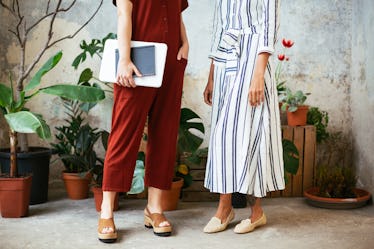 7 Women Shared What They Wore To Their First Job, Because Impressions Matter
Wondering what to wear to work can be a pretty stressful situation, especially in the business world, where there are only a few kinds of acceptable attire. But the outfit you wear on the very first day of work might be one of the hardest decisions you'll ever have to make, particularly if you're not sure about the office vibe: If you're thinking about wearing a dress and heels, you might worry if you're overdressed or if you're showing too much skin. Wearing jeans or corduroys is always a little sketchy (you never know if you're dressed too casually), and throwing on a skirt might even get you pulled aside and given an antiquated talk about what is and isn't appropriate for the workplace. That's why I've asked people about what you should wear to work on your first job, and here's what they had to say.
To many employers, your appearance translates to how you'll perform in that role. So, unless someone has already given you a heads-up on the appropriate attire for your workplace, you want to stick with an outfit that projects professionalism and shows that you're polished and ready to go. Later, once you've seen how your co-workers dress, you may be able to tweak your style as needed, but at least at first, you don't want to push the envelope too far.
Of course, it goes without saying that no one has the right to tell you how you should look or how you should present yourself. Your body, your rules. But, if you are concerned about what to wear, these helpful tips from seven real women will help offer you some peace of mind so you can do just fine on your first day.