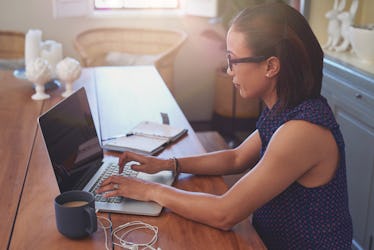 How To Practice Self-Care At Work By Allowing Yourself To Do These 7 Little Things
You know you've been there: the work week that refuses to quit. Sometimes, when you're coming up on the end of the week, it can feel like you and your computer are fusing into one being, and you can't remember the last time you weren't looking at a screen of some kind. Learning how to practice self-care at work is key, not only for maintaining your sanity, but also for ensuring you do your best work all the time.
Despite the fact that you're often hit, subtly or not so subtly, with societal messages about being productive, and always #KillinIt, treating yourself with kindness and respect day in and day out is really where it's at. After all, if you don't stop to take a little time for yourself each day, no one else is going to do it for you — know what I mean?
So, my friends, start considering how you can make more time for you. Rest assured, this doesn't have to equate to a total change in lifestyle, or even the way you work. These seven habits can easily be incorporated into your daily work schedule, and once you make these changes, it's all uphill from there.