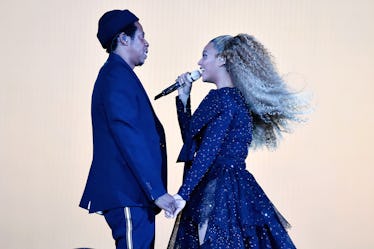 10 Celeb Couples Whose Musical Collaborations Are So Magical
Kevin Mazur/Getty Images Entertainment/Getty Images
When it comes to the music business, it's not all fun and games. It takes a lot to write, edit, and perform songs that'll hopefully evolve your career. In the music business, celebrity couples who've written or recorded songs together have def taken a giant leap to do something creative with the person they love. And while not all celeb couples who've made music together have stayed together, others have been brought even closer by their musical collaborations.
After Shawn Mendes and Camila Cabello decided to pursue a relationship, both artists ended up releasing albums inspired by the other. In 2019, Cabello released Romance, and the following year, Mendes debuted Wonder. And of course, they've released some incredible bops together. As Cabello told Elle during a September 2019 interview, "I think there is so much more depth to love when you know you are in it with another person. You have so much more to say."
Mendes and Cabello are still going strong, and all of the beautiful music that they've created together makes me want to revisit all of the other celeb duos who've collaborated on music together. I hope you're ready for this, because it's going to be a doozy.