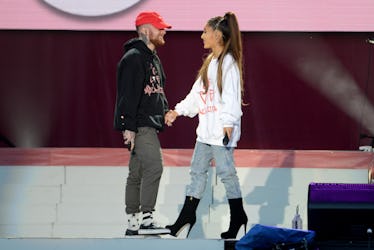 Ariana Grande Just Shared a Touching Tribute Photo Of Mac Miller
Getty Images/Getty Images Entertainment/Getty Images
On Sept. 7, Mac Miller died of an apparent overdose at age 26. As reported by TMZ, the rapper was pronounced dead at this San Fernando Valley home midday on Friday. Moments after the TMZ report, Us Weekly confirmed the reports of Miller's death on their website. Elite Daily reached out to Miller's reps for comment on the report and the details of a reported overdose, but did not hear back at the time of publication. Miller, who is supposed to start touring next month for his album, Swimming, has been public about his history with substance abuse. He's been open about his struggles, putting his emotions and experiences into his music. This past May, Miller was arrested for an alleged DUI. (At the time the reports first broke, Elite Daily reached out for comment on the report but has yet to hear back.) Today, fans across the globe are mourning the loss of the young artist, and Ariana Grande's reaction to Miller's death is deeply profound.
On Saturday, Sept. 8, Grande posted on Instagram following Mac Miller's sudden death. She shared a black-and white photo of the singer on her official account. She shared the photo of Miller looking up at the camera sans caption. It's presumably a photo that Grande took of Miller while they were together, but it's a touching tribute no matter when the photo was taken.
Grande and Miller dated for two years and, according to Grande's post about their breakup, planned to remain close friends after calling it quits. Grande confirmed their split in the following Instagram post, writing:
"Hi! This is one of my best friends in the whole world and favorite people on the planet Malcolm McCormick. I respect and adore him endlessly and am grateful to have him in my life in any form, at all times regardless of how our relationship changes or what the universe holds for each of us! Unconditional love is not selfish. It is wanting the best for that person even if at the moment, it's not you. I can't wait to know you and support you forever and I'm so proud of you!!"
Miller also publicly discussed their seemingly amicable breakup, telling Zane Lowe's show on Beats 1 on Apple Music, "Life is stressful. So, of course there were stressful times. It's not that unique. You know, like, I was in love with somebody. We were together for two years. We worked through good times, bad times, stress, and everything else. And then it came to an end and we both moved on. And it's that simple, you know."
Although they ended on good terms, some fans were quick to — wrongfully — blame Miller's issues with addiction on their breakup. In response, Grande made it clear to fans that Miller's substance abuse was a large issue in their relationship.
Shortly after she and Miller split, Grande began her whirlwind love story with Pete Davidson. Following Miller's alleged DUI arrest, many fans thought it appropriate to blame Grande for the accident, claiming her new relationship had somehow caused Miller's alleged drunk driving.
Grande defended herself on Twitter by responding to a tweet that claimed: "Mac Miller totalling his G wagon and getting a DUI after Ariana Grande dumped him for another dude after he poured his heart out on a ten song album to her called the divine feminine is just the most heartbreaking thing happening in Hollywood"
The 25-year-old pop singer posted the following message in response:
"how absurd that you minimize female self-respect and self-worth by saying someone should stay in a toxic relationship because he wrote an album about then, which btw isn't the case (just Cinderella is ab me). I am not a babysitter or a mother and no woman should feel that they need to be. I have cared for him and tried to support his sobriety and prayed for his balance for years (and always will of course) but shaming/blaming women for a man's inability to keep his shit together is a very major problem. let's please stop doing that. Of course I didn't share about how hard or scary it was while it was happening but it was. I will continue to pray from the bottom of my heart that he figures it all out and that any other woman in this position does as well."
Grande has championed her ex and was vocal about her desire to support him. His death should not serve as yet another opportunity to blame his ex for his addictions.
If you or someone you know is seeking help for substance use, call the SAMHSA National Helpline at 1-800-662-HELP(4357).