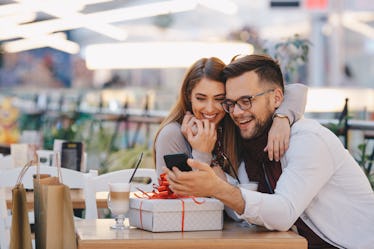 10 Best Gift Delivery Services For Valentine's Day To Send Bae Your Love
Shutterstock
For Valentine's Day, your goal is to make sure your partner knows how much you love and appreciate them. A simple and sweet way to kick things off is by sending them a surprise delivery. A Valentine's Day delivery doesn't have to be cliché, either, because some of the best gift delivery services for Valentine's Day 2020 include a mix of traditional favorites and gifts you might have never though of sending before.
It's pretty easy to be swept off your feet when you see a bouquet and heart-shaped box of candy waiting for you. But this year, you want to think outside the box. That means you could gift your love a lavish bouquet of donuts or an adorable heart-shaped plant. It's entirely up to you and what you think your Valentine will enjoy.
And if you and your SO are long-distance, a gift hand delivered to them will be your way of letting them know you're always thinking of them. It can also be a fun way to surprise your partner if you live nearby, because they probably won't expect it. Now that you've got delivery on the brain, you might want to consider any of these 10 services that will make your Valentine fall even more in love.