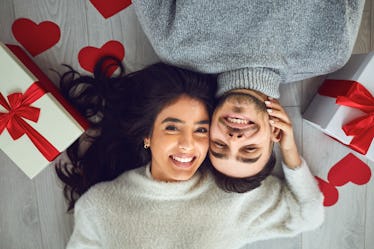 The V-Day Gift Your Partner Will Squeal Over, Based On Their Zodiac Sign
Shutterstock
Whether you and your partner like to stick to homemade gifts, or you tend to use holidays as a time to really ball out, it's natural to wonder about the best Valentine's Day gift for your partner. While there's no wrong time to give someone you love a super special present, Feb. 14 can be the right time to really hit it out of the park. It is Cupid's birthday, after all — no pressure or anything.
While the zodiac can't literally dictate anything, if you're struggling to lock down the perfect present for your special someone, knowing their sign may give you some added insight on their tastes and needs. From sending your Aquarius boo on a super thoughtful scavenger hunt to finally getting around to doing the chore you've promised your Virgo SO you'd do for a month, the zodiac can help you pick out the perfect present for your lover. Like all things in this century, you can consider astrology to be your not-so-secret shortcut, leading you to the right the answers.
If you're stressed about shopping and overwhelmed with options, here is the perfect present to get for your boo for V-Day, based on their zodiac sign.