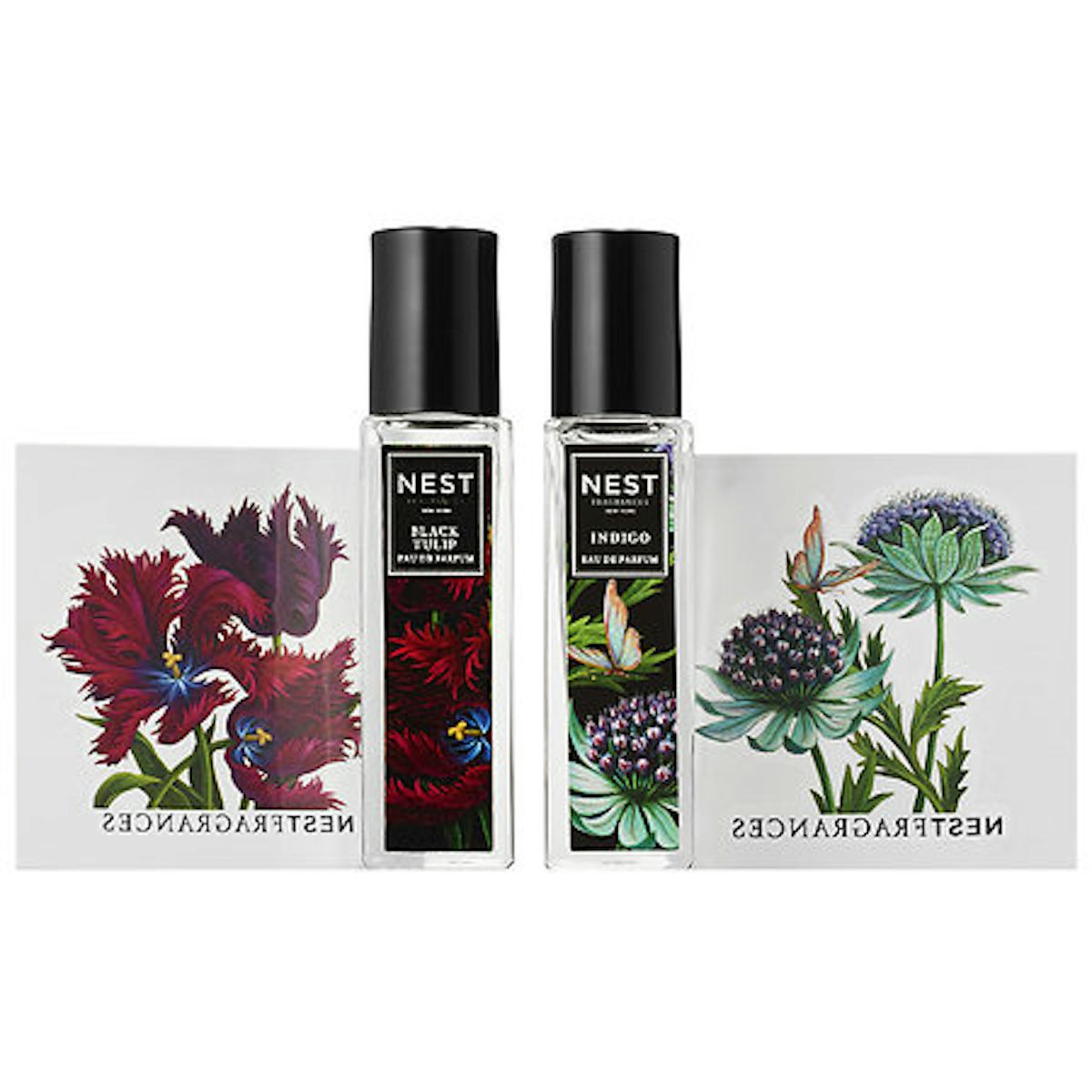 10 Beauty Gifts Under $10 That Are So Cute, Your Friends Will Fight Over Them
Let's face it: 99 percent of us probably don't have the money to buy every single person on our list as expensive of a gift as we dream about. But that doesn't mean the presents we do buy have to suck, either. I rounded up 10 beauty gifts under $10 that are so adorable, your friends will start to inquire about your side hustle as a personal shopper. There's nothing better than spoiling your loved ones while making them slightly suspicious, right?
Whether your squad is full of beauty lovers or not, the below list truly offers something for everyone. From my favorite phone cord hair ties (they're cooler than they sound) to some of the cutest products in the world (so many tiny bears!), the selection ranges from the pretty and practical to the effective and chic. There's even a set of perfumes in there, for that friend of yours whose fragrance you can't stand to smell much longer.
Stock up on a bunch of your favorite picks and dole them out as stocking stuffers, or choose one or two to give to each of your besties. No matter how you go about executing your yearly giving of gifts, you'll undeniably be spreading some festive holiday cheer. Plus, no one will actually know their gift costs less than Seamless-ing a burrito.
Rosy Disposition
Paging everyone who has befriended a naturalista: THIS STUFF ROCKS. I use it every single day and it never fails to give my skin a dewy and reinvigorated glow, and the scent is pleasant and natural. I mist it on after I wash my face at night so it can work its magic for a full eight hours, and again in the morning after I've applied my foundation and blush. I love the way it helps set my makeup and makes it look like I don't have a ton on.
Polar Effect
Have you ever seen a more adorable under eye stick?! This one, which comes in the form of a tiny little polar bear, is made with pure mineral water from Iceland, which is meant to help brighten dark circles and relieve puffiness. It also includes moss and kelp, which help deeply moisturize skin. Gift it to your girlfriend who goes hard every night.
You Rang?
If you've tried them, then you know that these are the absolute best hair ties. The cords keep your ponytail in place without tugging at any locks of hair, and never cause tangles or indents. These specific ones have a unicorn-esque sheen to them, so they're ideal for your extra friend who has already pre-ordered Paris Hilton's unicorn mist.
My Two Scents
Two Nest fragrances for $10 is an enormous steal. But these perfumes, which come in Black Tulip and Indigo, also come with scented temporary tattoos. Gift them to a friend that loves festivals, and she'll be set with floral body appliqués come Coachella, which is good because I don't think people shower much in the desert.
Bombs Away
I'm going to say it: I'm a 26-year-old woman, and I enjoy a good bath bomb every now and then. There's something about being engulfed in a tub of tiny fizzy bubbles that feels extremely luxurious. This holiday-themed bath bomb smells like relaxing lavender and is meant to help soothe chapped, dry skin. Drop it into a stocking and present it to your stressed out S.O. or sorority sister.
Beary Cute
I die for this tiny panda-shaped lip balm! Even if it wasn't filled with chap-battling concoction, I'd probably still string in on my keychain. This coming from a girl who has a Gudetama keychain (it's basically a tiny cracked egg whose yolk has a face) from Tokyo currently on her keyring, but still. Everyone loves pandas.
Blot Right Now
My roommate turned me on to blotting papers, and I've never looked back. I have relatively oily skin, especially during warmer months, so they've saved my face from grease many a time. This particular pack is not only emblazoned with a cute rainbow design, but each paper within the pack has been infused with peppermint to help soothe and freshen skin. Who wouldn't want this secretly festive beauty weapon in their back pocket?
Teeth Fairy
A travel-sized comb comes in handy for so many reasons. No part will ever be left crooked, and no tangle will ever be left unconquered. This mini comb, which can fit in even the smallest of clutches, is not just convenient, but also packs a cool enamel punch.
Candy Crush
My friend introduced me to this nail polish and I seriously have yet to find a cooler or more fun color. When applied, it really does look like the outside of a jawbreaker and is the perfect option for a big party...or little gift for a secret Santa.
About Face
No one in their right mind would say "No" to five nature-powered sheet masks that each serve a different purpose. As I've mentioned before, winter wreaks havoc on my skin, so receiving these would be a holiday dream come true.