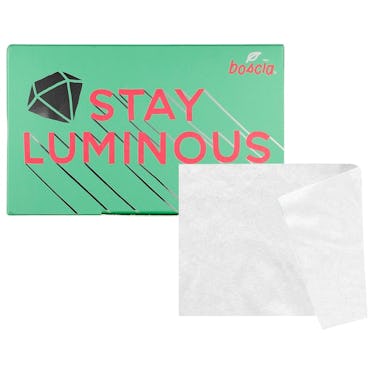 10 Awesome Beauty Gifts Under $10 For Anyone Who Already Blew Their Budget
Boscia
I don't know what's freaking me out more. The fact that Christmas is almost here and this month is flying by, or that I don't have all of my Christmas shopping done. If you're last-minute Lucy like me, here are beauty gifts under $10 for the glamour pusses in your life. These items will look like you intentionally picked stocking stuffers, even though you spent your weekend binge watching The Crown.
If you love giving gifts, this time of year can be problematic. When I was younger, it was so much easier buying presents, because I didn't have expensive taste. Now that I'm older, and the women around me are obsessed with fashion and makeup, I get a little bit lost in the sauce when it comes to picking out the best beauty gift.
There are so many options, and if you're someone like me, I can easily rack up a huge bill giving out beauty sets. I also love giving out the perfect gifts, which takes time to figure out. First, I have to assess who I'm shopping for: Is my bestie a die hard MAC fan, or does she live for self care and harbor an obsession with Lush bath products? Then you have to come up with a good price point range that won't leave your bank account crying in the New Year.
If you blew your budget on gifts for the family, but still want to spread holiday cheer, below is a round up of gift ideas for the beauty gurus. They may not know how to do a cut crease, but they can whip out the chicest day to night look in under 20 minutes.
The TSA Friendly Rollerballs
Philosophy's best-selling scent has been shrunk into the most adorable mini set. I don't know about you, but I always forget to throw perfume into my luggage when I'm traveling. With notes of fresh blossom, bergamot, and musk, this is for the woman that prefers more of a fresh, woodsy smell over fruity. This gift is perfect for the jet-setter flying home for Christmas, or hitting the islands for the New Year.
The Do You Believe In Winter Magic Palette
Sephora Collection: Winter Magic Eyeshadow Palette
Sephora
$10
With eight matte shimmering eyeshadows, this palette is just the right size for the makeup junkie in your life. Including beige, taupe, and brown colors, this is a total day-to-night lifesaver.
The Lip Balm Fit For a Social Media Princess
Seriously, who would not want this in their stocking? This lightly tinted, nourishing lip balm comes in both pink or nude shades.
The Ethereal Glow Highlighting Duo
During the holidays when everyone drinks a bit to much wine or cider, this duo is perfect to give your face the highlighted look. The Illuminating Mineral Veil adds a pearly, ethereal glow, while the Bare Radiance All-Over Face Color gives your skin just a subtle hint of nude glimmer. Just don't forget to remind the person getting this gift to stay hydrated! No one likes waking up feel dryer than the desert.
The Stay Luminous Oil Blotting Papers
Peppermint oil blotting papers sound like the dream product. Blot away your shiny T-zone and your bad mood.
The Gift Set Perfect For The Queen Of Staycations
Play! By Sephora Beauty Staycation
Sephora
$10
When you wish you could book someone an actual overnight stay at a hotel, score them this Staycation set instead. The PLAY! by SEPHORA box includes super-nurturing skincare that is ideal for lounging around.
The More Than Meets The Eye Duo
Too Faced More Than Meets the Eyes Duo
Sephora
$10
The Better Than Sex Mascara is such an iconic product for those that want standout lashes. The brush is shaped like an hourglass figure, and the wand will coat your lashes while making them super voluminous.
The Affirmative Daily Reminder Perfume
Inspired by the water, the forest, the desert, and the purity of peony, these four scents are perfect for the woman that loves to switch up her fragrances.
The All Around The World Face Masks
The Body Shop Online Only Multi- Mask Trial Set
Ulta Beauty
$9
After a year of falling in love with natural skincare, The Body Shop is up there with the cream of the crop. This kit features six different face masks from all over the world, so you can experience Ethiopia, Great Britain, Japan, the Amazon, and China without leaving your bathroom. With ingredients like honey, rose, matcha, acai, and ginseng, you won't mind missing out on the stamps in your passport.
The Moisturizing Cream That Will Make You Feel Like A Happy Panda
I'm not even going to say that Korean skincare is the next big thing, because it has been the biggest thing. Tony Moly leads the pack with its amazing ingredients and funky packaging. If your bestie is a moisturizing fiend, this kit contains over 80 percent of Damyang Bamboo water. Bamboo is known for its soothing and hydrating properties, which is all I need to hear during the cold winter months.