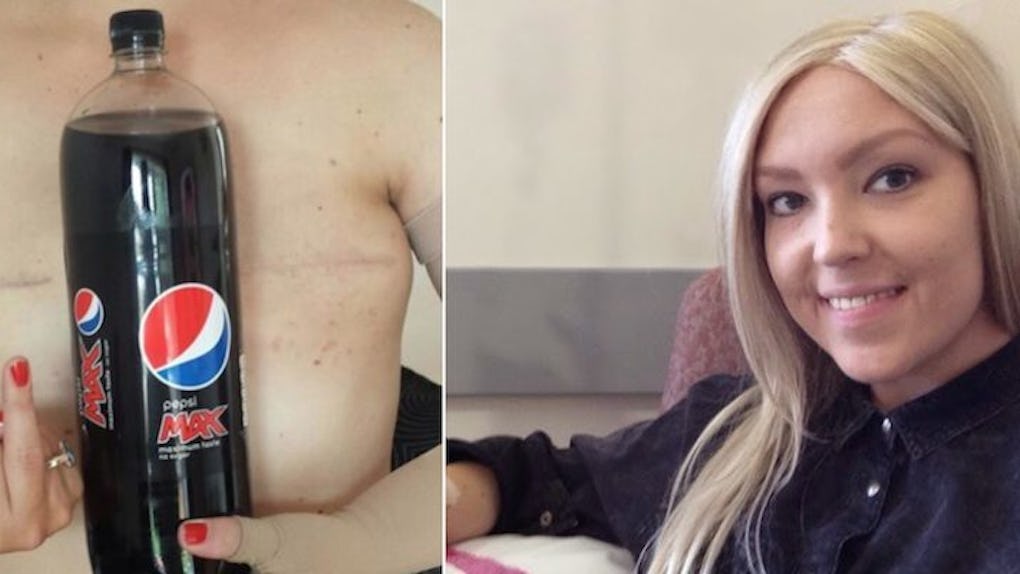 Twitter
Woman With Cancer Perfectly Responds To 'Hold A Coke With Your Boobs'
Over the past few days, there's been an influx of Coke and cleavage clogging up our social media feeds as people flash their cans for the #HoldACokeWithYourBoobsChallenge.
There's been a lot of controversy surrounding this trend, and it turns out the hashtag trend started as a distasteful joke.
Many people, including 32-year-old Aimee Fletcher, are outraged by this challenge and feel sexualizing breast cancer with this challenge is beyond disrespectful. Fletcher was diagnosed with breast cancer a year ago.
She first came across the challenge after attending a funeral for a friend she lost to this awful disease. Now she's "sick" of the "games" and wants people to know the truth about breast cancer.
Fletcher responded to the #HoldACokeWithYourBoobsChallenge by posting her own picture that shows the scars from her double mastectomy.
Breast cancer is not fun and sexy. The treatment is gruelling... It's not glamorous and why people decide to take photos of the part of the body that breast cancer destroys is beyond me.
The #HoldACokeWithYourBoobsChallenge made people mad.
Aimee Fletcher is one of those people.
After seeing the challenge, Fletcher decided to speak out about harsh realities of breast cancer.
She wants to let the world know there's absolutely nothing "fun" or "sexy" about the disease.
Fletcher wants people to see what living with cancer really looks like.
In response to this ridiculous challenge, Fletcher decided to post her own picture on Twitter...
...showing off the two scars from her double mastectomy.
Here's my #holdacokewithyourboobchallange don't I look beautiful #breastcancer #TheCWord @youngbcblog pic.twitter.com/nvHHLkoeRz — Aimee Fletcher (@aimeefletch82) June 4, 2015
Citations: A Woman With Cancer Had This Perfect Response To The u201cHold A Coke With Your Boobsu201d Challenge (BuzzFeed)