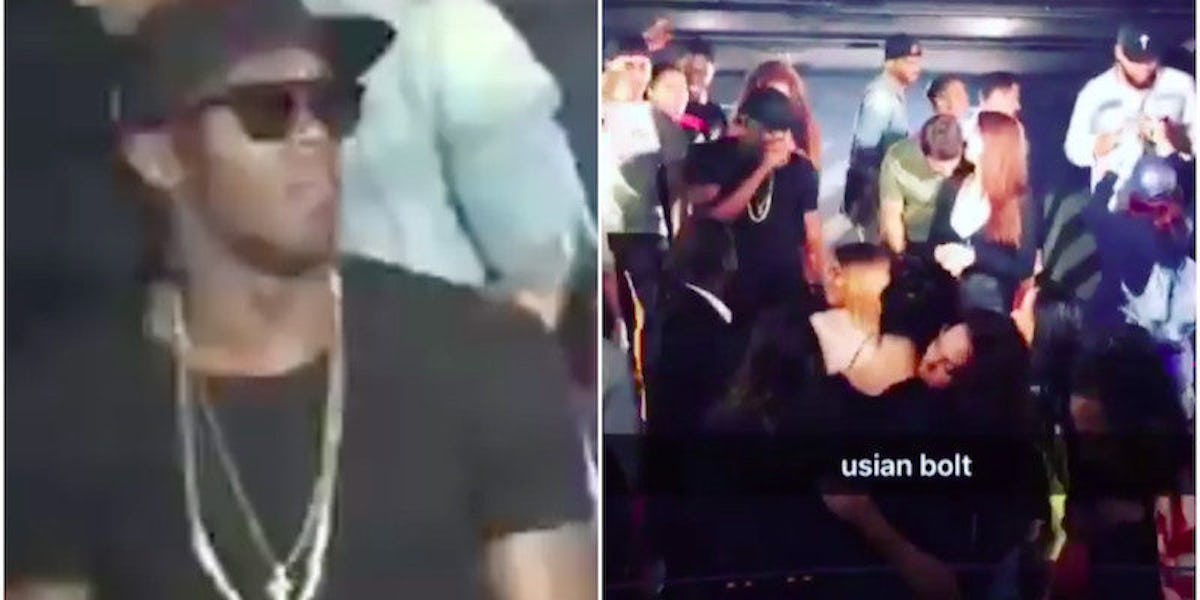 Usain Bolt Has Wild Birthday Party With Tons Of Women Amid Cheating Drama
Instagram
Usain Bolt is living by the phrase "go hard or go home" — and he's definitely not going home.
He landed in London on Monday and partied until 4:30 am on a school night after his weekend cheating drama in Rio.
Those photos of the sprinter and Jady Duarte — which he still hasn't publicly addressed — felt like a thing of the past as he continued his 30th birthday celebrations at Cirque le Soir.
At one point, he got on stage and grabbed the mic because he balls so hard.
Waitress Yvett, 23, posted a couple of Instagram videos of him rapping. She told the Daily Mail,
He skipped the closing ceremony in Rio because he wanted to come party with his Cirque le Soir family – he's been coming here for years. I've seen him here about five or six times before. We gave him the mic and he was telling everybody it had been his birthday a couple of days ago. People were buying him drinks – champagne, Sex on the Beach, Kamikaze shots – everybody was just appreciating him and celebrating his gold medals.
This time, however, Bolt wasn't pictured getting cosy with anyone, though he did go back to his hotel with two women.
Now, new photos have emerged showing the Olympian getting freaky with two other women BEFORE he spent the night with 20-year-old student Jady Duarte back in Rio.
Before he met her at Boate All In nightclub on Saturday night, Usain was pictured kissing a mystery brunette.
Then, he was filmed grinding seriously hard up against a different girl.
Then those now-famous photos happened with Jady.
Jady since said she is "dying of shame" and deleted her Facebook account.
She spoke out after she sent the images to a closed group of friends on WhatsApp, and they were leaked.
According extra.globo.com, she said,
It's very negative. I never wanted to be famous, I'm dying of shame.
Jady, who checked-in to the nightclub on Facebook at around 11:30 pm, said she was approached by Bolt's security and at first had no idea whom he was. She didn't reveal details about the encounter but described it as "normal."
Jady said,
It was not a big deal. It was normal.
He has a girlfriend of two years he met back home in Jamaica.
But neither Kasi Bennett nor Bolt have publicly addressed the cheating rumors — yet.
Citations: Daily Mail